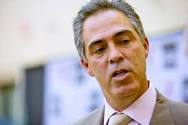 Pritchard was part of one of the most bizarre front office moves in NBA history, when Portland's owner let him go on the day of the draft. He had performed well to that point, bringing the franchise back from its Jail Blazers image to a winning and respectable franchise, but something had gone wrong.
Larry Bird — a teammate of Pritchard's with the Boston Celtics — hired him to come help with the Pacers, and later elevated him to General Manager. Pritchard performs a lot of the leg work involved in executing transactions, while Bird has the final say — and takes the credit or blame.
Pritchard was raised in Indiana, in Bloomington and Noblesville, before his family moved out of state. He was the starting point guard on the Kansas team that won the NCAA title in 1988, and played briefly in the NBA.
He earned his management stripes by working in the minor leagues and doing all the glamorous things a minor league GM and/or coach has to do — like driving a van and taping ankles. He then made his mark in Portland. He infamously drafted Greg Oden with the first pick in the draft when Kevin Durant was available, but the majority of NBA decision-makers would have done the same thing.
Don't be surprised if he replaces Bird someday.
First aired 2012
---
Tagged with:
Boston Celtics
,
Indiana Pacers
,
Kansas NCAA basketball champions 1988
,
Portland Trail Blazers