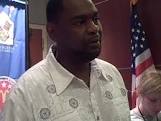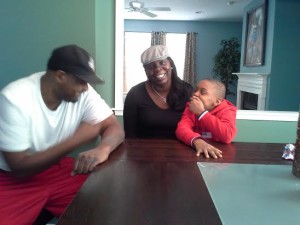 This is the dad, not the player. I had gone to the Stephensons' home during Lance Jr.'s final season with the Pacers to write a story that opened a lot of eyes about the family background. Lance Jr. lived with his parents and younger brother in a nearly rural setting outside of Indianapolis. It's not what people were expecting from a family that had grown up on hard streets in Brooklyn.
After getting to know them, and like them, I convinced Lance Sr. to come with his wife to the studio to record a Father's Day edition of the show. They were great with me, cooperating beyond what they had done with anyone else, and have a great story to tell, too – such as why they named one son Lance and the other Lantz. There's a good reason, believe me.
You'll notice dad talks optimistically of his son re-signing with the Pacers after the season. It didn't happen, of course. Charlotte made a slightly better offer, and the family was off to North Carolina. Lance Jr. was traded to the Clippers after that season, so I presume they'll be living in Los Angeles next.
This qualifies as one of my favorite episodes, though, because there's so much more to the Stephenson story than people assumed.
First aired 2014
---
Tagged with:
Indiana Pacers
,
Lance Stephenson Sr.
,
Lance Stephenson's father