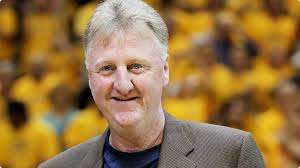 I covered the Pacers for the Star when Bird coached them, and had developed a relationship from that. He, like many NBA coaches, respects the beat writers who grind out stories nearly every day and chase teams around the country via commercial flights, so he's nearly always been cooperative when I've asked for his time. I don't ask often, though, which probably helps.
We had this conversation in his office at Bankers Life Fieldhouse in August, the slowest time of the NBA season. I had been told by the Pacers' media relations director David Benner to keep it to half an hour. I said I had an hour program, and needed a bare minimum of 40 minutes of usable material. I was told to keep it as short as possible. Our conversation ended when owner Herb Simon walked in to see Bird, at which point I barely had enough.
Again, this was in the early days of the show and my recorder with clip-on mics didn't provide the best audio quality. Bird, however, always gives great interviews because he's honest. I wish we could have talked longer, but I can't complain. He doesn't do a lot of interviews such as this one, and I've done a few of them.
The best thing about Bird is that he has an impressive lack of ego for someone as famous as he regrettably is. (His regrets, not mine.) He's a regular guy and shoots as straight in conversation as he does in basketball, so it's hard to go wrong. I probably received more feedback on this show than any other.
By the way, for a detailed description of Bird's recruitment to Indiana State, check out Part 1 of the conversation with Bill Hodges.
First aired 2009
---
Tagged with:
Bill Hodges
,
French Lick
,
Indiana Pacers
,
Larry Bird