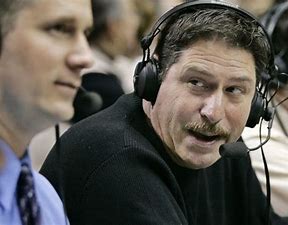 This ranks as the most personal of all the conversations in the One on One library. I got to know "Cliz" during the two seasons I spent with Purdue's basketball team for a book project, and we talked in a conference room in Mackey Arena one evening to record this episode.
He doesn't shy from talking about his difficult upbringing as an adopted child with an abusive mother, nor the problems he had with alcohol while working for Purdue. He lost his gig announcing Purdue football as a result, but Gene Keady went to bat for him and he was allowed to continue with the basketball team. By now he's a local legend in that regard.
He's as close with Matt Painter as he was with Keady. He's more than announcer, he's practically a team member. He's welcome at all places at all times with the coaching staff, including the pre-game locker room. There's something about him that draws people, despite his screw-ups. Perhaps it's because of them. He's vulnerable, but lovable, and people tend to go to bat for him.
You'll like him, too, after listening to this conversation.
Note: Cliz came to me for advice on how to deal with his cancer issues. He followed an approach similar to mine and was able to squeeze a few more good years out of his life before passing away in February of 2021.
First aired 2010
Tagged with:
college basketball announcer
,
Larry Clisby
,
Purdue basketball