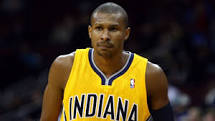 I wasn't around the Pacers much during Barbosa's 22-game residency in the 2011-12 season, so I had never met him when we gathered in an office off the Pacers' locker room. Still, he was an engaging, charismatic guest who made it easy to fill the hour.
He didn't perform very well in the playoffs for the Pacers that season, averaging 5.7 points on 35 percent shooting, and the Pacers made no attempt to re-sign him. He kept bouncing around, to Boston and Phoenix, and then received his great reward as a member of Golden State's championship team in 2015.
The guys from other countries are always interesting. Barbosa is the type who would be interesting regardless, but you'll be impressed by the sacrifices he made to become a player.
First aired 2012
---
Tagged with:
Golden State Warriors
,
Leandro Barbosa
,
NBA championship 2015