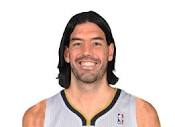 "The most interesting man in the world." It's an appropriate description for the Argentinian, whose diet prohibits sugar, gluten and dairy and drives an electric car. He's a worldly, forward-thinking man who hopes to play past the age of 40, and I won't be surprised if he pulls it off.
Scola didn't get to the NBA until he was in his late twenties, and came to the Pacers in a roundabout way. Larry Bird chased him for a few years, and finally got him, hoping he could play a vital backup role on a championship contending team. Scola's first season in Indy was a bit of a disappointment as he needed time to get used to playing off the bench, and had an elbow injury that affected his shooting. He played better his second season, nearly as good as starter David West.
Scola was a great locker room presence, but in a quiet way. He never complained, always said the right thing when asked, and brought his cute kids in after games, which contributed to a family atmosphere. He didn't seem that close to any of his teammates because he had a wife and four kids, but he got along with everyone.
He's also one of the most interesting Pacers I've talked with, and that covers a lot of players. I had cancer during his time with the team, and I addressed it with alternative means rather than radiation and chemo. He was knowledgeable and supportive of my approach, and we had some long conversations about that.
I hated to see him leave the Pacers and sign with Toronto, but that's the NBA. I think he has more left than other people realize, but we'll see.
First aired 2014
---
Tagged with:
Argentina basketball
,
Indiana Pacers
,
Luis Scola