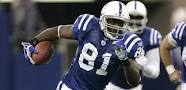 I had never met Pollard, but he was in town for the NFL Combine, and attended a Pacers' game at Bankers Life Fieldhouse on a Sunday afternoon. I tracked him down in the stands to issue the invitation. Fortunately he was sitting by his brother, who lives in Indianapolis and was a fan of the show, so that helped convince him to agree to a long telephone conversation with someone he didn't know.
It was a breeze, because he's another one of those guys with a story to tell who tells it well. His angle is that he made it in the NFL as a tight end despite playing only basketball in junior college and at Bradley University. It was a treacherous path, but he made the Colts roster as an undrafted free agent in 1995. He played 13 NFL seasons – 10 for the Colts – and one game in another season at the end of his career.
He's got a lot going for him beyond football. He and his wife were on the reality television show The Amazing Race, and he's now the Director of Player Development for the Jacksonville Jaguars.
I didn't know him when he played for the Colts, but the guys who covered the team in those years will tell you he's one of their favorites.
First aired 2015
---
Tagged with:
Bradley University basketball
,
Indianapolis Colts
,
Jacksonville Jaguars
,
Marcus Pollard
,
NFL tight end