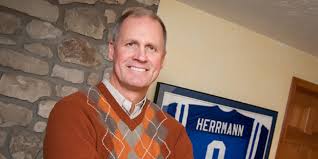 He was a starter on a state championship high school basketball team before carving a niche for himself in football. That niche went awfully well for the most part, but ended in bizarre fashion.
Herrmann was a four-year starter at Purdue, where he played in three bowl games – back when you actually had to be good to get to a bowl game. He was a consensus All-American as a senior, and finished fourth in the Heisman Trophy voting. My memory of his time at Purdue is hearing cowbells inside Ross-Ade Stadium. Back then, whenever Purdue got a first down, some fans would shake cowbells. And it got a lot of first downs with Herrmann at quarterback.
Draft day was a disappointment, though. He was a sniper-accurate passer, but the NFL scouts weren't impressed with his arm strength or mobility, so he was drafted in the fourth round in 1981, a major disappointment. I was among the reporters who gathered on campus to talk with him that day, with the expectation he would go in the first or second round. He didn't jump at sports information director Tom Shupe's request to come over to Mackey Arena to talk with us, so Shupe marched us down to the off-campus house Herrmann shared with high school and college teammate Bart Burrell, to make him do the dirty deed. Herrmann was polite about it, as he is about everything, but it was a painful day for him.
He drew a paycheck for 12 NFL seasons, though, suggesting he was drafted too low. He was part of the trade with Baltimore that sent John Elway to Denver, and played a season in Baltimore before the franchise moved to Indianapolis. It seemed like a good thing for him, being a native of the area, but playing for the Colts at that time wasn't a good thing for anybody. He eventually was traded to San Diego, then played for the Rams, and then came back to the Colts.
It all came to an abrupt end in 1992. Herrmann got the starting call in the season opener against Cleveland because of injuries to Jeff George and Jack Trudeau, and led a 14-3 victory. He was still basking in the glow of the win when he reported to work the following morning, only to be told he had been cut. Thanks for the memories, see ya. He'll tell that story here, along with plenty of others.
First aired 2009
---
Tagged with:
Carmel High School
,
Indianapolis Colts
,
Mark Herrmann
,
NFL quarterback
,
Purdue quarterback