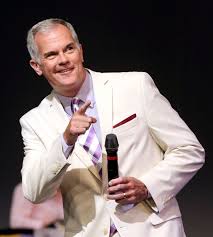 Back in the early Nineties, he was the king of all media in Indianapolis. He was the lead sports anchor on Channel 8, had hosted what remains the best local sports talk show, was a regular guest on the top-rated radio show Bob and Tom, hosted the Hoosier Millionaire lottery show and was syndicating his characters and jokes to radio stations across the country.
Meanwhile, he was raising a future Major League Baseball pitcher, Drew Storen.
Patrick had a great memory for arcane sports trivia, was genuinely funny and televised well, too. He was a natural, in other words. He was said to have a sizable ego and to be difficult to work with at times, but that's not uncommon for major talents.
He came into the studio to record these episodes. Our conversation before I turned on the mics would have made for a great show, but so did the part of it afterward. I could have gotten three hours out of it, but settled for two, and saved two segments for later use with a compilation show. He can talk on just about any subject, do impressions, be funny, be opinionated … all the qualities that made his show back in the late Eighties and early Nineties the best Indy has ever had.
He also put on a clinic on how to raise a professional athlete, which you'll hear in Part 2.
First aired 2014
---
Tagged with:
Bob and Tom
,
Drew Storen
,
Indianapolis media
,
Mark Patrick
,
WFBQ
,
WISH-TV8