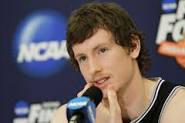 Howard might have gone to Purdue, but Scott Martin took the last scholarship after Robbie Hummel, E'Twaun Moore and JaJuan Johnson had committed. You can't help but wonder how things would have gone for the Boilermakers if he had gone there.
It worked out awfully well for him at Butler, though. He was part of both teams that reached the final game of the NCAA tournament, and while he wasn't quite big enough or athletic enough to play in the NBA, he should have a long career overseas.
Howard is as down-to-earth and generous as they come. You have to be that way if you grow up in a family of 10 kids in a house with one bathroom. You learn to share, and to be part of a team.
I talked with Howard in an alumni lounge within Hinkle Fieldhouse after practice one day. We'd never met, but it was an easy conversation. The show reran in 2011, before the NBA draft. His name wasn't called, but he's thriving in Europe.
First aired 2010
---
Tagged with:
Butler basketball
,
Matt Howard