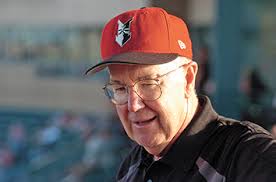 The best thing about the Indianapolis Indians is that nobody ever complains about them. They're a minor league baseball franchise, so people just want to sit outside and watch a game. Winning is a bonus, but not a requirement. Fans will complain about the Pacers and Colts even when they're having good seasons, but nobody ever calls for the Indians' manager to be fired or the third-baseman to be traded.
It's refreshing.
More than anyone, Schumacher is the face of the franchise. He's been with them since 1957 and has been most responsible for their continued success as a profitable business venture and valued entertainment option.
He was a decent athlete himself at Butler, where he played baseball for Tony Hinkle. Or, more accurately, coached third base for Tony Hinkle. I probably could have gotten an hour out of that alone, but settled for a few stories.
First aired 2011
---
Tagged with:
Indianapolis Indians
,
Max Schumacher