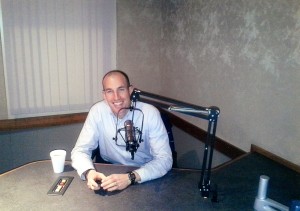 You might not know his name, but you know the bulldog mascots, Blue and Blue II, if you've followed Butler basketball.
Those dogs became major celebrities as Butler's success grew, and Kaltenmark is their caretaker. He's a graduate and fulltime employee of the university, so this is more a labor of love. It's hugely important to the university, though, and goes beyond the basketball games. Kaltenmark takes his dogs to several events on and off campus year-round. I once got to pet the dog outside the Butler bookstore, the day after one of their NCAA tournament wins.
You can't go wrong talking about dogs, and Kaltenmark does it well. You'll have a greater appreciation for all that goes into the mascot after hearing his story. Wait for the story that sums up what the mascot means to people at the end of the conversation.
First aired 2013
---
Tagged with:
Butler basketball
,
Butler Blue
,
Butler bulldog mascot
,
Michael Kaltenmark