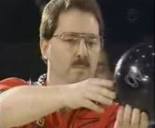 I wasn't sure I could fill an hour with a bowler, but Aulby made it easy. And he's got a good story to tell.
From a kid who worked part-time after school picking up trash and varnishing pins at the local alley to a Hall of Fame induction, he's seen it all in bowling. And earned his way, too. He was Rookie of the Year in 1979, and Bowler of the Year in 1985 and '95.
He's also one of the nicest guys you'll ever meet, in or out of sports. He mailed a Thank You note to me after this episode ran, and another after I  participated in the Hoosier Legends television episode on him. Which helps explain why he won the PBA's Sportsmanship Award in 1994 and '95. You might not realize it, and you might think it's funny, but there's some trash talking in bowling. He didn't engage in it.
With all that going for him, it's no wonder he's in the Hall of Fame. When you get down to raw accomplishment, he's one of the greatest athletes to come out of Indiana for all the success he had in his sport.
I once watched him complete a 300 game in a fund-raising outing, as if it was nothing. And it was, sort of. He told me then he had bowled more than 50 of them outside of tournaments.
First aired 2012
---
Tagged with:
Mike Aulby
,
PBA Hall of Fame
,
PBA Sportsmanship Award
,
Professional Bowling Association