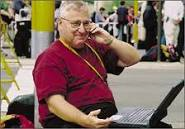 I was hesitant to bring in sportswriters as guests, because I know most of the ones from Indiana as colleagues and it felt awkward to me. Besides, I don't believe fans pay much attention to writers, except for some columnists.
Lopresti was an exception for me because of his widespread experiences and the unique way he conducted his career. He has a purist's love for sports, especially basketball, and it showed in his work. He dug deeper than most writers to uncover great stories and find unique angles, as he describes here. He also represents the difficulty of maintaining a career in a rapidly-changing media landscape. Like a lot of us, the time came when he felt he was living in an alternative world, one in which he didn't fit.
I first met him when he was covering high school sports for the Richmond Palladium-Item. I was fresh out of college, writing for the Marion Chronicle-Tribune. You tend to compare yourself to other writers when you're getting started in the business. Lopresti was one of those I had to admit was probably more talented than me. Dammit.
First aired 2014
---
Tagged with:
Mike Lopresti
,
sportswriter
,
USA Today