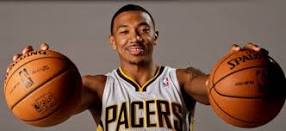 He has a horribly dramatic story, having grown up amid genuine tragedy. Starting with his mother's murder when he was a young boy.
Johnson was given a two-year guaranteed contract by Larry Bird, despite being a second-round draft pick. Bird has a soft spot for the kids from challenging circumstances, and Johnson qualified. It looked like a brilliant move as his rookie season progressed. Johnson was shooting better than 40 percent from the three-point line well into the season, he defended well, and he was a respected voice in the locker room despite being a newcomer. For example, after a game at Golden State in which Paul George went scoreless, Johnson counseled him on the red-eye flight home. George went straight to the practice gym after landing in Indy, and it was a turning point for his season.
Johnson lost his shooting touch late in his rookie season, though, and it carried over into his second season. After hitting 38 percent of his three-pointers as a rookie despite the late swoon, he hit just 19 percent his second season before he was released to make room for the trade that sent Danny Granger to Philadelphia and brought in Evan Turner and Lavoy Allen.
The Pacers' players, coaches and training staff were genuinely sorry to see Johnson go. Other than a brief stopover with Sacramento, he hasn't made it back to the NBA. That's a shame, because he's a really good guy with an unbelievable story, the kind of guy you root for.
We conducted this conversation in an office off the Pacer locker room. I later wrote a story in which I dug deeper and talked with his brothers. Trust me, the circumstances of his mother's death were even worse than described here.
First aired 2013
---
Tagged with:
Indiana Pacers
,
Orlando Johnson