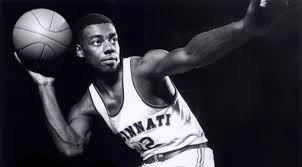 The Big O has a reputation for being grouchy and bitter, and it's somewhat deserved. But he was gracious with me.
He's not an easy interview to get. I called and left a message for him at his workplace shortly after my show began airing. He didn't respond, so I mailed him a copy of the show with Tom Van Arsdale, in which Van Arsdale declared his admiration for him. Van Arsdale had roomed with Robertson when they were teammates with the Cincinnati Royals, and they became close friends. Robertson also had frequently called Tom's twin brother, Dick, after Dick suffered a stroke. After receiving that CD, Robertson called me to say he would meet me at the Montgomery Inn in Cincinnati.
We got together in a private room at lunchtime. I was using a recorder with clip-on mics at the time, so the sound quality isn't what it should have been – certainly not what you want when you're interviewing one of the greatest basketball players of all time, but certainly better than nothing. As with many of my guests, this is no doubt one of the longest recorded interviews he's ever recorded. Also as with many of my guests, I wish I could have kept him longer and made it a double episode.
He gave me one of my "I've never told anyone this before" moments, which I used in a promo for the show, and he spoke frankly about his career. It's not fair to categorize him simply as grouchy and bitter. I consider him a good-hearted curmudgeon who is outspoken about his experiences in life. And, he's got a right to be bitter about some things.
First aired 2009
Tagged with:
Cincinnati Royals
,
Crispus Attucks High School
,
Naismith Basketball Hall of Fame
,
Oscar Robertson
,
University of Cincinnati