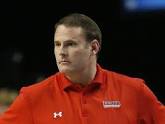 Bob Knight's son has a much better relationship with the media than his dad did, and therefore wasn't difficult to line up for this conversation. I met with him in a conference room at the hotel where his Lamar team was staying when it was in town to play Butler. We talked at 8 am. You can hear his players hitting the buffet line for breakfast in the background at the end of the conversation.
Pat Knight, Bob's youngest son, automatically would have an interesting story simply because of his bloodlines, but it goes well beyond that. He had a rather tumultuous playing career for his dad at IU, with legal entanglements and all, and then took over for his dad as the head coach at Texas Tech years later.
He was let go as Lamar's coach a month or two after we had this conversation, and was hired as a scout by the Pacers.
He's an easy guy to talk with, and has always been pleasant when I've seen him. He seems to take after his mother, Nancy, mostly, while his brother Tim takes after their father. You'll learn a lot about Pat and probably a few things about his father, when you listen to this breakfast chat.
First aired 2013
---
Tagged with:
basketball coach
,
Bob Knight's son
,
Pat Knight