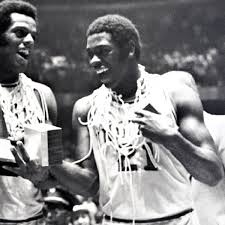 This was a breeze to turn into a two-part episode, because Buckner is a natural communicator and has been a part of so many major events in basketball.
He was one of the most decorated high school players ever to come out of the state of Illinois, the captain of the undefeated 1976 national championship team and gold medal-winning U.S. Olympic team and then went on to a 10-year NBA career. His coaching career with Dallas didn't work out, to say the least, but he's now an executive and color analyst for the Pacers. I've been around the office enough to know that he's held in high regard there.
Buckner has a knack for befriending famous people, including Larry Bird and Michael Jordan. He used to join Bird for workouts in French Lick when they were teammates on the Celtics, in fact. He just has that kind of personality – easy to get along with, accomplished in his own regard and someone you can trust. I've talked with him many times, and have never heard him say a bad word about a teammate or co-worker in private conversation.
We talked in the studio about his accomplished and varied career. One thing that stands out to me is his recall of the seasons in Milwaukee when he worked with a sports psychologist to lift his field goal percentage – but then thought he had mastered it, and saw it decline again. He retired at the age of 31, after a partial season with the Pacers that didn't go well for either side.
A lot of people thought he'd have more individual success in the NBA, but he wasn't a great shooter nor a great athlete by the standards of the league. He was a tough, smart player with natural quarterbacking ability. He might very well have done better in football, actually. He was a first-team all-Big Ten defensive back as a freshman at IU, before dropping that to focus solely on basketball.
One thing is for sure. It's one of the greatest breaks in Bob Knight's coaching career that Buckner's father had attended Indiana. If not for that, Quinn likely would have gone to college elsewhere, and Knight's entire career at IU might have turned out differently. Buckner, remember, started as a freshman on the IU team that reached the Final Four in 1973, and his leadership was crucial to the teams that built Knight's legacy.
First aired 2010
---
Tagged with:
Boston Celtics 1984
,
Indiana Pacers television
,
IU basketball 1976
,
Quinn Buckner
,
U.S. Olympic basketball team 1976