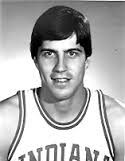 He can tell you as well as anyone the importance of having talent to coach. He's been a winning coach when he's had it, and a losing coach when he hasn't. Funny how that works.
He's waist-deep in Hoosier Hysteria, playing high school basketball at Ben Davis, college basketball at Indiana and professionally with the Pacers, among other teams. He was a starter on the IU team that won the 1981 NCAA championship, and any self-respecting (and older) fan remembers the momentum-building jump shot he hit just before halftime in the final game against North Carolina.
He's got so much history, in fact, it took two episodes to tell it, although the conversation came on the telephone and late at night. He's still building on his career as the coach of the Washington Wizards, who finally are good enough to win some games.
First aired 2011
---
Tagged with:
Atlanta Hawks
,
Indiana basketball
,
Indiana NCAA champion 1981
,
Indiana Pacers
,
NBA coach
,
Randy Wittman
,
Washington Wizards