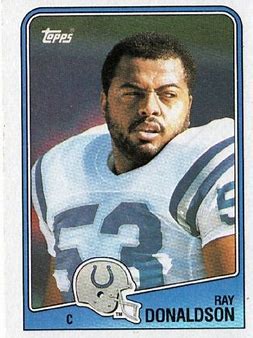 I tend to like the crusty guys. That's easy for me to say because I don't have to coach them, but they tend to be more honest. They can be good for a team, too, because they see through the BS that sometimes inflicts organizations, and can bring about progress if management is willing to listen.
Donaldson, the Colts center when the franchise moved to Indianapolis, was one of those guys. He was a Pro Bowl player, both for the Colts and Dallas. He had the misfortune of being stuck on bad Colts teams in the Eighties, but won a Super Bowl with the Cowboys. He earned it through all those seasons of hard labor. He's also earned a place in the Colts' Ring of Honor at Lucas Oil Stadium, but won't likely get it. Maybe he ruffled too many feathers during his time with the team. That's too bad. Politics aside, he played well and played hard, and was a major reason they at least had a potent running game back before they found a reliable quarterback.
This episode is the second I recorded with Donaldson. The first one somehow disappeared and I had to call him to ask if we could do it again. He agreed, so I returned to his home near downtown Indianapolis and did it again. As you can tell, he's blunt. And I appreciate that.
First aired 2011
---
Tagged with:
Indianapolis Colts
,
Pro Bowl
,
Ray Donaldson