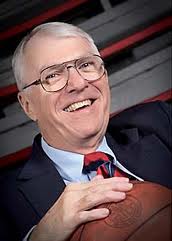 I ran this episode the week after the one with Chuck Bavis, because their tragic tales are so similar.
Pavy was regarded by most as the second-best player in the state in 1959, behind Mr. Basketball Jimmy Rayl. He, like Rayl, attended IU, but his career ended when an automobile accident following his sophomore season left him paralyzed. Unlike Bavis, he wasn't at fault.
Pavy is best remembered for his shootout with Rayl when Kokomo played at New Castle their senior season. Rayl scored 49 for Kokomo, but Pavy had 51 in New Castle's victory. Pavy's lone varsity season at IU showed promise, but it was his last as a player.
Like Bavis, he overcame his tragic fate. He became a successful coach and then an administrator, and remains active with the state Hall of Fame. We recorded this conversation when the Hall of Fame conducted its annual golf outing at Pebble Brook. One of the primary takeaways: I asked him how long it took him to get over his accident. He said he wasn't sure if he had.
First aired 2013
Tagged with:
Jimmy Rayl
,
New Castle High School
,
Ray Pavy