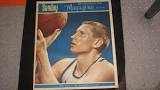 He's one of the lesser-known Mr. Basketballs, one I had never met and knew little about. This being the 50th anniversary of his honor, it seemed appropriate to find him.
Chris May from the Indiana Basketball Hall of Fame helped, as he did with other guests, and I tracked down Jones in Elwood. I can't claim he has a particularly fascinating story, or that he was one of the better Mr. Basketballs, but his anonymity made him interesting to me.
He went to Miami of Florida to play college basketball, one of the Hoosiers who succumbed to the sales pitches of coach Bruce Hale, who had played professional basketball in Indianapolis in the late 1940s. Hale hit Indiana hard in the Sixties, even getting a verbal commitment from Rick Mount in 1966, before local pressure persuaded Mount to go to Purdue instead.
Jones wasn't the best high school player in the state his senior year, based on what happened after high school. In fact, he might not have been the best player on his high school team. His teammate at Muncie Central, Mike Rolf, scored 53 points combined in the two all-star games with Kentucky, while Jones scored 16 on 3-of-16 shooting. Jones, though, had been the leading scorer for the Muncie Central team that won the state championship, scoring 44 points in the final two tournament games.
Louie Dampier wound up having the best long-term career from the Class of '63, but Jones has the state championship and Mr. Basketball title in his favor. That's enough to make for a good story. A good career, even.
First aired 2013
---
Tagged with:
1963 Mr. Basketball
,
Muncie Central basketball
,
Rick Jones