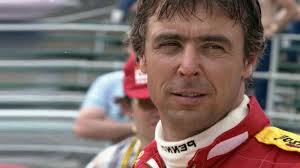 I'll tell you what kind of guy Rick Mears is.
I had never met him, but had arranged to talk with him through an intermediary in the Turn Two suite in which he was staying before the 2010 race. Well before the scheduled time, he called to tell me he had become available earlier than he planned, and to come over anytime. It's a small gesture, but that sort of thing doesn't happen very often.
I got another indication when I asked a favor upon arriving. My girlfriend at the time (now my wife) was a huge Mears fan during his racing career. She has a thing for him, just as she does for Bruce Springsteen. (More than for me, probably, but you can't blame her.) She had recently undergone foot surgery, and since Mears knows a thing or two about foot surgeries from his racing accidents, I asked if he would say a few words to her. I called to get her on the line, and he did so without hesitation. She sat at home fanning herself, trying to maintain her poise and spit out a few words.
Aside from all that, Mears has a great story to tell, and tells it well. The four-time Indy 500 winner made it look easy, driving for Roger Penske, but it never is. Before hooking up with Penske, the guy had to drive a pink car, of all things. He paid a price for his success, too, with some serious accidents. Through it all, though, he remained a quiet, steady, smiling presence, as calm as any driver I ever saw at the track.
You wouldn't know how difficult it was by looking at him. But you would by listening to this episode, including the story of how he overcame alcoholism.
First aired 2010
---
Tagged with:
Indianapolis 500
,
Rick Mears