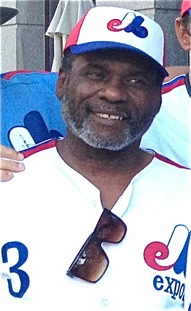 He's one of the greatest athletes to come out of Indianapolis, but not one of the better known. He was an all-state basketball player at Arlington High School, a standout football player for the brief period he played it and went on to play eight seasons of Major League Baseball.
Scott was an Indiana All-Star for the series with Kentucky in 1972, when Phil Cox was Mr. Basketball. Scott scored 16 points in the second game, which Indiana won 115-86 at Butler, and went to Vincennes on a basketball scholarship. He gave up that sport quickly and turned to baseball after having been selected in the 11th round of the '72 draft.
He played second base, shortstop and third base, and could run. He had proved that as a football running back and basketball guard, and it was his calling card in baseball. He stole 85 bases in 91 attempts in four seasons of minor league ball, and stole a career-best 63 bases in 1980 for Montreal. Teammate Ron LeFlore stole 97 that season, and they set a record for two teammates.
The only thing keeping him from stealing more bases was getting on base. His career batting average was .236, and he was done by the age of 28 after injuries mounted.
He was using a cane to get around when he came to the studio for this conversation. He was living in Atlanta at the time, but was in town to visit his mother.
First aired 2014
---
Tagged with:
Indiana All-Star 1972
,
Montreal Expos
,
Rodney Scott