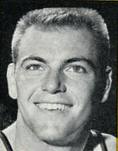 Indiana's Mr. Basketball in 1960 had a relatively brief career in the game, but it was eventful.
His Muncie Central team lost (badly) in the championship game of the state tournament his senior year and carries the mixed distinction of being the best team in history not to win the state title. He scored 40 in an easy win in the afternoon and 29 in the final game.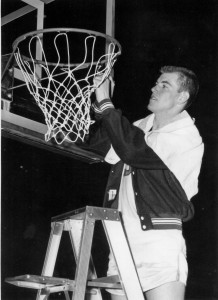 He was a clear-cut winner of Mr. Basketball honors and was voted the Star of Stars award-winner in each of the games in the series with Kentucky. I believe I mention in the conversation that he had scored 32 points in each of the games, but that's not true. I had gotten that information from a book the Indianapolis Star put out on the all-star series, but it was an error. He scored 32 in the first game and 27 (along with 14 rebounds) in the second in Louisville.
He enrolled at Purdue and was in the dorm there for a few days but bailed before classes could begin and went to Cincinnati instead. It was a good move, at least from a basketball standpoint, as he played on a national championship team as a sophomore and a runner-up as a junior, when he was a first-team All-American. Purdue's program was down at the time and wouldn't have had much success even with Bonham, although he would have crossed over with Terry Dischinger for one season.
He was a second-round draft pick of the Boston Celtics (18th overall) and was a backup on two championship teams there but was left unprotected in the expansion draft in 1966. He was claimed by the Chicago Bulls but had recently divorced and didn't have his heart in basketball at the time. A year later he signed with the Pacers after the ABA was formed and played a season for them – a season cut short when he came down with the measles, courtesy of his roommate Bob Netolicky.
He was happiest hunting and fishing and made his post-basketball living as the assistant parks' superintendent in Muncie. His second marriage stuck. His wife  accompanied him to the studio for this conversation.
Bonham passed away rather suddenly, at least from the public's perspective, in April of 2016. I had called him the previous fall to ask if he wanted to meet in Kokomo to visit Jimmy Rayl, who had preceded him as Mr. Basketball. Bonham was out west on a hunting trip at the time and said he would call when he got back to Indiana but never did. I don't know if he knew he had cancer at the time, but obviously found out bfeore long.
He would be much better remembered in Indiana had he attended a state college, but he had no regrets. He made his mark in basketball and then made a living doing what he loved most – being outdoors. They now hold a Ron Bonham Day in Muncie to celebrate his contributions in that area.
First aired 2013
---
Tagged with:
Boston Celtics
,
Indiana Mr. Basketball
,
Indiana Pacers
,
Muncie Central High School
,
Ron Bonham
,
University of Cincinnati NCAA champions