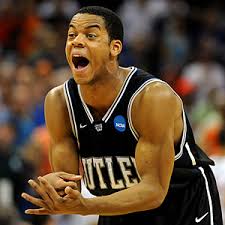 I had never met the Butler star when he came downtown to the studio. As it turned out we got better acquainted quickly, because there was a technical difficulty at the station that forced us to kill time while waiting for it to be repaired. We walked over to a restaurant and I bought him dinner before recording the show.
He was about to become the head coach at Brownsburg High School when we talked. That didn't last long, as Brad Stevens offered him a job as a skills coach with the Boston Celtics. He's already moved on from there, taking an assistant coach's position at Northern Kentucky.
He wasn't highly recruited, and Stevens admitted he had few skills other than leadership and charisma when he signed him up at Butler, so you know there's a story behind Nored's prominent place in Butler's success.
First aired 2012
---
Tagged with:
Boston Celtics
,
Butler basketball
,
Northern Kentucky
,
Ronald Nored