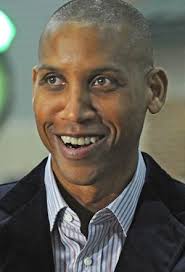 When you get to know Reggie's dad, you understand the reasons for Reggie's success, because the Pacers' all-time leading scorer doesn't fall far from the tree.
Saul was a jazz musician in Memphis, a saxophone musician good enough to play in bands with the likes of Phineas Newborn Jr., B.B. King, John Coltrane, Lionel Hampton and Ike Turner. He also played backup on an iconic recording, Rocket 88, considered by some the first rock and roll song.
He was a high school basketball star, too, and played at Lemoyne College as well, and has the newspaper clippings to prove he was a clutch shooter just like Reggie. Music was his first love until he met Carrie, the woman who tamed him. They raised five children together, all of them wildly successful.
Saul was/is jazzy cool, with flair and a hint of cockiness. He would talk good-natured trash to his kids in games of H-O-R-S-E, for example. He also mastered self-discipline from his career in the Army, which he passed on to his kids. That's why Reggie played the way he did, with a combination of ego, work ethic, flamboyance, respect for authority and discipline.
I didn't bring it up here, but one of the things that impressed me most about Saul was how he helped care for Carrie when she suffered from Alzheimers. I visited him during Reggie's last season with the Pacers and saw it first-hand when I traveled to Riverside with an Indianapolis Star photographer.
We had this conversation over the telephone one evening for a Father's Day edition. I had been instructed by Reggie's representative to keep the conversation short. I offered to do it in two calls. But Saul said he was fine, and we did it in one shot. I was able to load the raw, uncut conversation without the music, intro and commercial breaks., rather than the finished show. You get an extra 10 minutes of conversation that way.
I couldn't dig up a photo of Saul, but the one of  Reggie should suffice. He looks enough like his dad to give you the idea. Saul isn't as tall, but he's just as skinny.
First aired 2012
---
Tagged with:
Carrie Miller
,
Reggie Miller's father
,
Reggie Miller's mother
,
Saul Miller