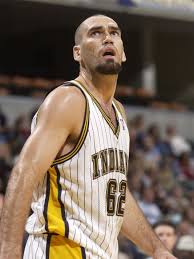 This guy is made for communication. He was a great quote as a player when I covered the Pacers, he was good on the Pacer telecasts as a studio analyst and radio analyst, and he was good when he came to the studio for these episodes. No way one was going to be enough.
Pollard came to the Pacers in the deal that sent Brad Miller to Sacramento. He didn't care to leave Sacramento, and the Pacers' style of play at the time didn't suit him well, but he made the best of it. He was the kind of player who rebounded and defended well, and didn't care about scoring. He was the perfect center for a team that had enough scoring punch. As I bring up in this conversation, I recall a game in Houston when he didn't score and fouled out, but still had a major impact on the Pacers' victory. That's the kind of player he was.
Pollard attracted a lot of attention for his ever-changing hairstyles, and he had a way of getting himself into minor jams for things he said, but he's really a fundamental, old-school guy at heart. There's a lot of substance and drama to his story, too, which includes his father – a notable player who died when Scot was 16 – his coach at Kansas, Roy Williams, the missing T in his first name and his budding career in entertainment.
You'll probably be seeing a lot of him in years to come. He's producing, or trying to produce, movies and television shows, and seems a natural in front of the camera, too.
First aired 2015
---
Tagged with:
Indiana Pacers
,
Roy Williams
,
Sacramento Kings
,
Scot Pollard
,
University of Kansas