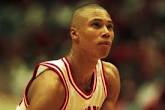 This double episode ran after the one with Kojak Fuller. It was appropriate, because Fuller had been awarded the Mr. Basketball title that was stripped from Wilkerson.
Wilkerson, like Fuller, is another example of someone who got into a lot of trouble while young but matured and turned his life around. He was a high school All-American and an IU recruit, but quit the Indiana All-Star team during the first game of the series with Kentucky because he was angry about playing time. His No. 1 jersey was passed on to Fuller, and the team won without him in Indianapolis.
He later was kicked off IU's team after a series of issues, the final one an assault on a girlfriend his junior year. He finished his playing career at Rio Grande and played in minor leagues and overseas for a decade, gradually getting his life back on the right path.
He was the assistant coach at Lamar under Pat Knight when we had this telephone conversation, but lost that job after Knight was fired during the 2013-14 season. Still, his story is a great one, and he can tell it like no other.
"Mark, Mark!" (Listen, and you'll understand.)
First aired 2013
---
Tagged with:
Indiana Mr. Basketball
,
Jeffersonville High School
,
Kojak Fuller
,
Lamar University basketball
,
Sherron Wilkerson