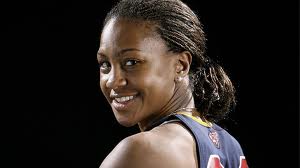 Here's the difference between the NBA and WNBA: If you want to interview an NBA star player away from the arena, you're likely to be turned down. And if you're allowed, you'll likely to have to meet him at a neutral site, or just talk on the telephone. But if you want to interview a WNBA player, even a superstar such as Tamika Catchings, you just go over to her house. The media relations director gives you her address, and she greets you at the door.
I had never met Catchings before this conversation, but she was gracious and cooperative. The interview, however, barely avoided disaster. This one was done in the early days of the show, when I had to use an outdated Marantz recorder with clip-on mics. One of them wasn't working, which I didn't discover until I got back to the studio. Fortunately, it was the one I was wearing. I was able to go back and re-record my questions separately and splice them into the conversation. It sounds a little awkward in spots, but was a far better option than going back and asking her to do the interview again. I had to re-record the questions on the same recorder used for the conversation rather than in the studio so that the audio quality was consistent, and that was another limitation.
Catchings is one of the greatest athletes ever to play in the state of Indiana, and joined the Naismith Hall of Fame in 2021. She's got a great story, too, having dealt with handicaps as a kid. Rather than becoming bitter, she developed empathy for children in need and has turned that into charitable acts — so many she was named Sports Humanitarian of the Year at the 2015 ESPY's.
This episode is a re-broadcast, updated from the original after the Fever won the WNBA championship.
First aired 2009
---
Tagged with:
Indiana Fever
,
Tamika Catchings
,
WNBA