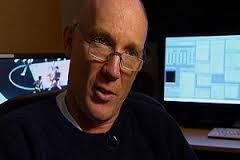 I worked with him at the Star for a few years. I was a reporter, he was an editor. Unfortunately he wasn't the primary editor I worked with. Otherwise, my career there would have lasted longer and been more enjoyable.
Green was the rare editor who could improve your story without being overbearing, and didn't have his ego wrapped up in the job. He was introduced to video editing after I went to John Wooden's condo with a photographer to help create a video feature, and that led to him leaving the Star (turning down the chance to be sports editor) and working on documentaries that have aired on the PBS station.
He's done two directly related to the Pacers, on Roger Brown and Slick Leonard. They were labors of love (and a shot at a new career) that weren't guaranteed to bring in money, but it seems to have worked out in the long run for him. His next project is on Crispus Attucks High School.
Editors are usually boring, but Green became interesting by taking a big risk and pursuing his dream. He came by the studio to tell his story, and how the documentaries came together.
First aired 2014
---
Tagged with:
Crispus Attucks
,
Roger Brown
,
Slick Leonard
,
Ted Green
,
WFYI documentary