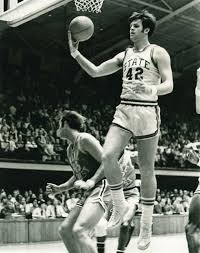 If you were old enough in 1971 to follow basketball in Indiana, you have a fond memory of the East Chicago Washington team that went undefeated and won the state tournament. Stoddard was a member of that historic squad, and went on to play for the North Carolina State team that won the NCAA tournament in 1974, interrupting John Wooden's reign at UCLA. He then went on to pitch in Major League Baseball for at least portions of 13 seasons. Not a bad athletic career, eh?
He's now the pitching coach at Northwestern. We held this conversation over the telephone from his office. He's not the life-of-the-party type by nature, but I got an hour out of him. I know I left a few stones unturned, and wish I had been able to do this one in person.
I also did a show with one of his high school teammates, Pete Trgovich, and tried hard to get the other star from that team, Ulysses Bridgeman, who had a long NBA career. Ulysses and I traded voice mails, but he never returned my calls after that.
First aired 2014
---
Tagged with:
East Chicago Washington basketball
,
Indiana state basketball champions 1971
,
Major League Baseball pitcher
,
North Carolina State basketball
,
Northwestern baseball coach
,
Tim Stoddard