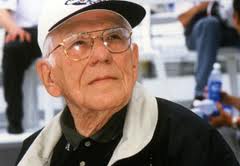 I went to the senior living community in Zionsville where Carnegie lived to conduct this interview in the lobby. I didn't know him well, but had interacted with him a few times and had always found him to be gracious.
Carnegie is known to Indiana sports fans primarily as the public address announcer at the Indianapolis Motor Speedway, but he also broadcast the state high school basketball tournament for several years. The games he worked with former Butler coach Tony Hinkle are legendary, as I recall in our conversation. He also was a co-founder of the state basketball hall of fame, and the sports anchor at Channel 6 for decades.
He was an extremely generous man. He recorded greetings for telephone answering machines back when they were a thing and would host an informal banquet at the drop of a fork. I once gathered some of the professional basketball players from the Indianapolis Kautskys of the 1940s for a reunion dinner and invited him to attend, because he had broadcast their games. He volunteered to act as an emcee and did a great job. It's a good thing he didn't care too much about money, because he worked for the Speedway for 25 years before its management broke down and paid him for his public address efforts. He had a theatrical background and used his skills to help bring drama to the race.
I asked him about his reported problems with alcohol, but he clearly didn't want to go there so I backed off. I wish I had left in the question, at least, simply for accuracy's sake. Regardless of how serious the problem was, he overcame it. From talking with people who knew him at Channel 6, he was far more, shall we say, colorful than you probably expect.
Carnegie died less than two years after our conversation. This is one of the few in-depth interviews ever conducted with him and captures important elements of Indiana's sports history.
First aired 2009
---
Tagged with:
Indiana basketball hall of fame
,
Indianapolis 500 public address
,
Tom Carnegie