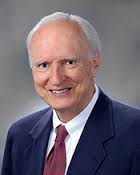 In Ames, Iowa, Fred Hoiberg has been awarded an honorary nickname "The Mayor." If anyone deserves that title in Indianapolis, it's Hudnut, who served for 16 years.
I had never met him, and we had to have this conversation over the telephone. It needed to be done, though, because he had so much to do with Indianapolis' emergence as a sports center.
Hudnut was a Republican, but it wouldn't be fair to call him a conservative. He defied the stagnant nature of Indiana politics and took some chances, most notably with the construction of the Hoosier Dome before the city even had an NFL team. That billowing Teflon roof ran the risk of becoming a white elephant, but it worked out nicely when he led the move to attract the Colts.
He also was vital to keeping the Pacers from moving to Sacramento in the early 1980s by leaning on Mel and Herb Simon to buy the franchise. It turned out to be a bargain for the brothers, probably the best investment they ever made – if Herb ever sells it.
He served four terms in all. This is essential history from one of the most influential people in the history of Indianapolis.
First aired 2009
---
Tagged with:
Indiana Pacers
,
Indianapolis Colts
,
Indianapolis mayor
,
William Hudnut