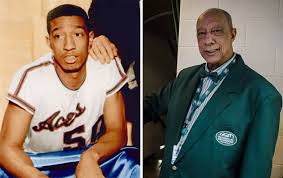 Larry Humes had a great career in basketball, earning Mr. Basketball honors out of Madison High School in 1962 and All-America honors at the University of Evansville in 1965 and '66. He was elected to the Small College Basketball Hall of Fame in May of 2019, but he ran into nothing but disappointment at the professional level. He was cut from the Chicago Bulls in 1966 and then the Pacers before their inaugural season in 1967.
Looking back, maybe that was the best thing for him. Many years later he worked as an usher for Pacers games at Bankers Life Fieldhouse, although he gave that up to become a driver's education instructor in 2019. The pay was better and he got to sit down on that job. This article was written while he was still ushering, an impressively humble act for someone who had a long teaching and coaching career, and could have been bitter about his playing experience with the Pacers.
Sometimes things work out in the long run, no matter how agonizing those shorter runs can be. Sometimes you think you were in the wrong place at the wrong time, only to find out those times and places might have protected you from veering off course to a worse place.
Larry Humes knows this now, but he's challenged to remember it every time he sees the collage of head shots of the members of the inaugural Pacers' team, which began play in October of 1967. He walks past it on his way to his usher's station at the top of the steps leading to Sections 17 and 18 in the lower bowl at Bankers Life Fieldhouse, and when he glances at it he feels a twinge of …. of what? Anger? Frustration? Betrayal? Regret? Maybe all of the above. He very nearly made that team, he expected to make that team, and other people believe he should have made that team. He could just as easily be in that photo as not, and if he were he probably wouldn't be moonlighting as an usher who directs fans toward their seats to watch the current Pacers play.
The years have worn away the rough edges and brought perspective to Humes, because too many good things have happened in his life to be brought down by a couple of blows to his pride and desired profession. When you were Indiana's Mr. Basketball, a college All-American and member of two national championship teams, a longtime teacher and coach, and a successful husband and father, it's easier to forget the disappointments.
And perhaps learn to appreciate them.
---
Tagged with:
Chicago Bulls
,
Evansville basketball
,
Indiana Pacers
,
Larry Humes