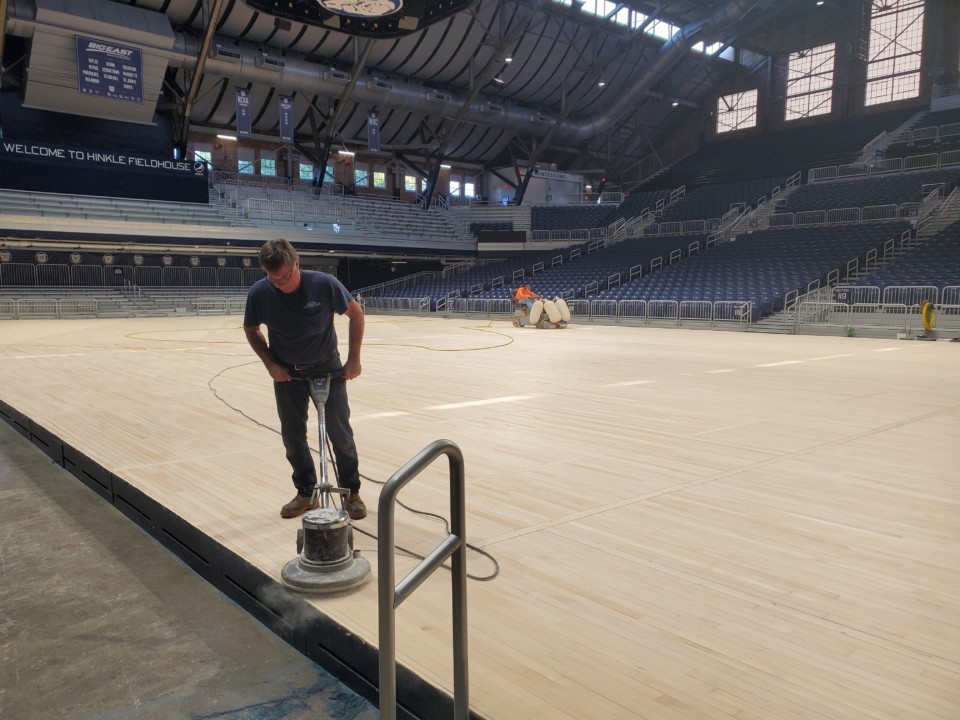 The basketball court at Hinkle Fieldhouse must surely be the most historic in the world, given the number of outstanding men and women who have played or coached a game on it.
Many people within Butler University's athletic department have thought for years that the court currently in use at the fieldhouse is the original, installed when the building opened in 1928. My research found, however, that it was laid down in 1932, shortly before the season began.
The original court ran east-west along the length of the building. It was decided to change to a north-south alignment for the 1932-33 season to allow the installation of more bleachers and increase attendance - for the benefit of the state high school tournament, primarily.
Perhaps the original court could not be taken apart and re-assembled. Perhaps it was damaged. For whatever reason, a new one was purchased. The Indianapolis Star and The Indianapolis News both reported a "new" court was being put down for the 1932-33 season. More specifically, The Butler Collegian, the school's student newspaper, used the word "purchased" in reporting on the new floor. None other than Butler's legendary coach Tony Hinkle helped paint the lines on it.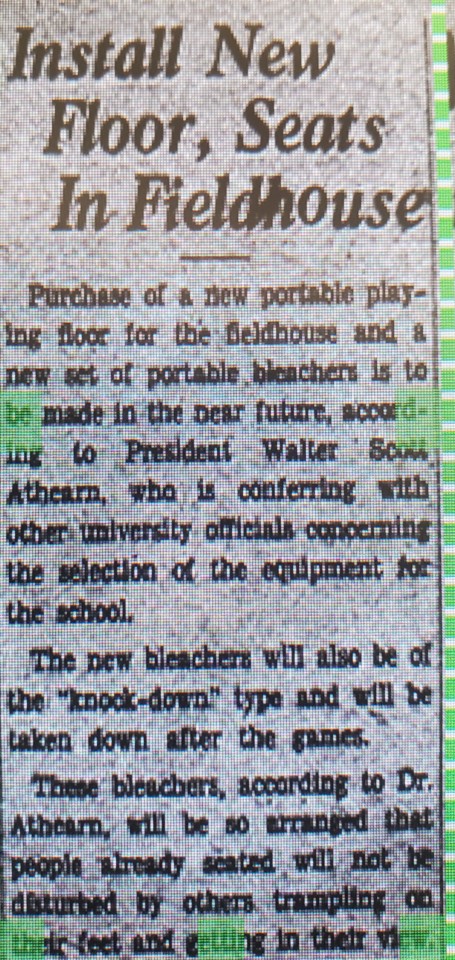 Although not the original court, it still is almost certainly the oldest court in use in the country. And, given the number of teams who have played on it, it has absorbed the sweat of more great players than any other. Not only those from Butler and its opponents but the NBA's Indianapolis Olympians and their opponents and the participants in high school, college and professional all-star games.
The Pacers have never played a game on the court, but they have practiced there occasionally. That brought Naismith Hall of Famers Ann Meyers, Reggie Miller and Chris Mullin to the floor. Other NBA teams have practiced there as well when in town to play the Pacers, but it is difficult to confirm which teams and which dates. The Indiana Fever once played a preseason game there, and that put Tamika Catchings on it.
The following list includes all the Naismith Hall of Famers who can be verified as having played or coached on the fieldhouse's legendary court, along with their affiliation at the time. There are no doubt more. It also excludes dozens of high school and college hall of famers who have not been inducted into the Naismith Hall.                                
Rick Adelman (1968 East-West All-Star Game)
Nate Archibald (1970 East-West All-Star Game)
Paul Arizin (Philadelphia Warriors)
Don Barksdale (Baltimore Bullets)
Rick Barry (1965 USA vs. Russia game)
Clair Bee (Baltimore Bullets coach)
Walt Bellamy (Indiana University)
Sergei Belov (Russian touring team)
Larry Bird (Indiana All-Stars, Indiana State, others)
Carl Braun (New York Knicks)
Larry Brown (ABA All-Star Game)
Roger Brown (ABA All-Star Game)
Tamika Catchings (Indiana Fever exhibition game)
Everett Case (Frankfort High School coach)
Al Cervi (Rochester Royals)
Chuck Cooper (Boston Celtics)
Louie Dampier (Southport H.S./ABA All-Star Game)
Mel Daniels (ABA All-Star Game)
Adrian Dantley (Notre Dame)
Bob Davies (Rochester Royals)
Dutch Dehnert (Sheboygan Redskins coach)
Bob Douglas (New York Rens coach)
Patrick Ewing (Georgetown coach)
Bud Foster (Wisconsin coach)
Joe Fulks (Philadelphia Warriors)
Harry Gallatin (New York Knicks)
Pop Gates (New York Rens/Tri-Cities Blackhawks)
Artis Gilmore (1971 USA vs. Russia game)
Harlem Globetrotters (team induction)
Gail Goodrich (UCLA)
Eddie Gottlieb (Philadelphia Warriors coach)
Cliff Hagan (ABA All-Star game)
Connie Hawkins (ABA All-Star Game)
John Havlicek (Ohio State)
Tony Hinkle (Butler coach)
Red Holzman (Rochester Royals)
Dan Issel (1970 East-West All-Star Game)
Buddy Jeannette (Baltimore Bullets)
Neil Johnston (Philadelphia Warriors)
Bob Knight (Ohio State player/Indiana University coach)
Bob "Slick" Leonard (Indiana University player/Pacers coach)
Earl Lloyd (Syracuse Nationals)
Ed "Moose" Krause (Notre Dame)
Clyde Lovellette (Terre Haute Garfield High School/Indiana All-Stars)
Jerry Lucas (Ohio State)
Pete Maravich (1968 East-West All-Star Game)
Slater Martin (Minneapolis Lakers)
Ed Macauley (St. Louis Bombers, Boston Celtics)
Dick McGuire (New York Knicks)
Ann Meyers (Pacers training camp)
Branch McCracken (Indiana University coach)
Bobby McDermott (Fort Wayne Pistons)
George McGinnis (Washington High School, Indiana All-Stars, others)
Al McGuire (New York Knicks/Marquette coach)
Muffet McGraw (Notre Dame coach)
Kevin McHale (1980 East-West All-Star Game)
George Mikan (Minneapolis Lakers)
Vern Mikkelsen (Minneapolis Lakers)
Reggie Miller (Pacers practice)
Chris Mullin (Pacers practice)
Harold Olsen (Ohio State coach)
Andy Phillip (Chicago Stags, Philadelphia Warriors)
Jim Pollard (Minneapolis Lakers)
Frank Ramsey (Boston Celtics)
Arnie Risen (Indianapolis Kautskys/Rochester Royals)
Oscar Robertson (Crispus Attucks/Indiana All-Stars)
Dolph Schayes (Syracuse Nationals)
Charlie Scott (1970 East-West All-Star Game)
Bill Sharman (Boston Celtics)
Dean Smith (North Carolina coach)
Fred Taylor (Ohio State University coach)
Rudy Tomjanovich (University of Michigan)
Wes Unseld (Indiana-Kentucky All-Star Game)
Fuzzy Vandivier (Franklin H.S. coach)
Chet Walker (Bradley)
Bobby Wanzer (Rochester Royals)
Jo Jo White (1968 East-West All-Star Game)
Johnny Wooden (Indianapolis Kautskys player/UCLA coach)
Jay Wright (Villanova coach)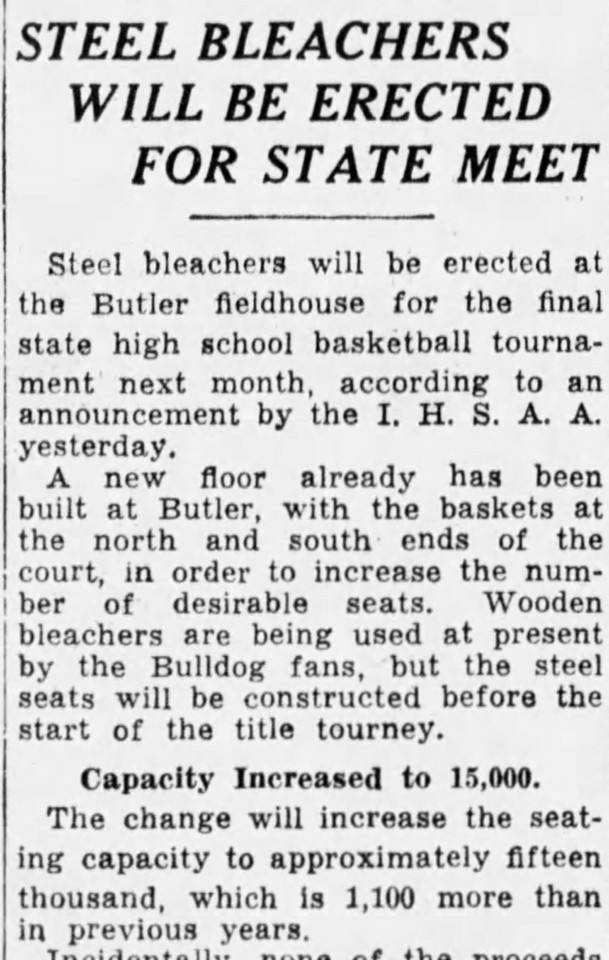 Tagged with:
Butler University
,
Hinkle Fieldhouse