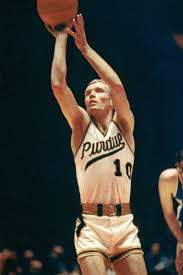 I wrote this column before the 1986-87 college basketball season, after the NCAA had instituted a 19-foot-9-inch three-point line. I called two of Indiana's greatest long-distance shooters, Rick Mount and Jimmy Rayl, for their reaction.
(c) 1986, The Journal-Gazette, Fort Wayne, IN. Reprinted by permission
The battle lines have been drawn. And soldiers from wars gone by are snickering.
Nineteen-nine.
It's college basketball's mantra this season. Hit a shot from 19 feet, 9 inches, and you get three points instead of two.
Nineteen-nine.
A good high school athlete can long jump that far. Just about anyone, it seems, can throw a ball into a hoop from that far — or should we say near?
---
Tagged with:
College basketball three-point shot
,
Jimmy Rayl
,
Rick Mount