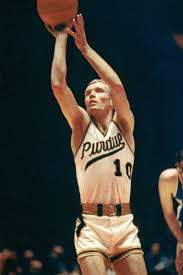 I wrote this column before the 1986-87 college basketball season, after the NCAA had instituted a 19-foot-9-inch three-point line. I called two of Indiana's greatest long-distance shooters, Rick Mount and Jimmy Rayl, for their reaction.
(c) 1986, The Journal-Gazette, Fort Wayne, IN. Reprinted by permission
The battle lines have been drawn. And soldiers from wars gone by are snickering.
Nineteen-nine.
It's college basketball's mantra this season. Hit a shot from 19 feet, 9 inches, and you get three points instead of two.
Nineteen-nine.
A good high school athlete can long jump that far. Just about anyone, it seems, can throw a ball into a hoop from that far — or should we say near?
Nineteen-nine.
Are you joking?
Imagine, for a moment, how the history of college basketball would have been altered if Dr. James Naismith had drawn a three-point line 19-feet, 9 inches from the first peach baskets he hung up. Think of all the buzzer shots that forced overtime that would have brought victory instead. Think of the conference and national championships that would have been affected. Think of the scoring averages that would have ballooned like the national debt
Rick Mount and Jimmy Rayl, two of the legendary marksmen in Indiana's basketball history, have thought about it, and can be forgiven for drooling at the thought of receiving an extra point for every shot they made from 19-9 and beyond in their careers.
Nineteen-nine? Shots from that distance were barely more adventurous than layups for Mount and Rayl. Giving them three points a crack for them seems as perverted as giving Manute Bol elevator shoes.
"Boy, it would have been something," said Mount, the 1966 Mr. Basketball from Lebanon High School who went on to play at Purdue University. "We were averaging 94 points a game as it was."
"We shot it from about everywhere," said Rayl, the 1959 Mr. Basketball from Kokomo High School who went on to play at Indiana University. "That's what we were there for."
---
Tagged with:
College basketball three-point shot
,
Jimmy Rayl
,
Rick Mount