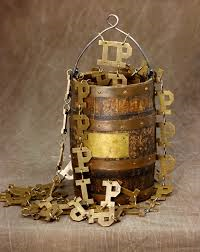 I was amazed to learn in 1986 that someone had attended every Old Oaken Bucket football game to that point, and wrote a feature about the man. I wrote about him again for the Indianapolis News in 1994, as footnoted here.
(c) 1986, The Journal-Gazette, Fort Wayne, IN. Reprinted by permission
BLOOMINGTON — Saturday, Nov, 21, 1925, was a wonderful day for traditions to be born. A bright sun pierced the crisp autumn air from a clear blue backdrop, adding the perfect finishing touch to a historical afternoon.

The Indiana University and Purdue University football teams were going to play at 1 p.m. The two in-state rivals had already met 26 times since 1891, but this game was going to be special, for more than one reason.
Indiana was going to officially dedicate its new football facility, Memorial Stadium, a concrete and steel structure near the heart of campus on 10th Street. Purdue had dedicated its new 18,200-seat facility, Ross-Ade Stadium, the year before and Hoosiers fans were proud to have one of their own. It would seat 22,000 people, about seven times as many as the wooden bleachers surrounding the previous playing site, Jordan Field, had held.
A traveling trophy also was going to be introduced to the series. The Chicago-based alumni clubs from each of the two schools had met earlier in the year to, as they said, "discuss the possibility of undertaking worthy joint enterprises on behalf of the two schools."
What they came up with was an old, moldy wooden bucket, already about 60 years old, that had been found on a farm in southern Indiana. An Old Oaken Bucket, to be exact.
Unknown to everyone at the time, another grand tradition would begin that day, one that has outlasted the stadium by 25 years and kept pace with the Bucket. Claude Rich, a freshman cheerleader for Indiana, would see his first game against Purdue. He hasn't missed one since.
---
Tagged with:
Claude Rich
,
Indiana University football
,
Old Oaken Bucket