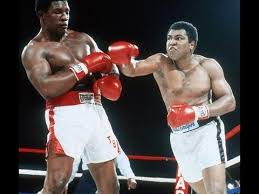 I had always wanted to see Ali fight, so I took vacation time and covered what turned out to be his last one, against Trevor Berbick in the Bahamas, at my own expense. The fight was a major disappointment, but the experience was not.
Ali's farewell to boxing was a depressing scene. The Queen Elizabeth Sports Centre in Nassau might sound like an impressive venue, but in reality it was a small cluster of rundown softball/baseball diamonds. Ali dressed in a public restroom. Tickets were priced as high as $1,000 but were slashed to a fraction of that and sold at a local McDonald's in the days leading up to the fight.
I was on my own time and my own dime, so I didn't try to crank out a deadline-beating story on the fight itself, which started late and ran long. I was merely a spectator. I gave up my press table seat to the wife of Tommy Hearns, who was on the undercard, and watched the early fights from her seat near the ring. There's a documentary on this fight out there somewhere and if you look quickly and carefully you can see me in the audience, although I can't imagine why you'd want to bother to do that.
I covered the post-fight press conference the following morning — that's where the real story was — and was thoroughly impressed with Ali's sense of humor and humility. This story won awards of some sort or other, but it was relatively easy to write because of Ali's performance in that hotel conference room. And, somehow, being in his presence inspired me at the keyboard back at my hotel room.
True confession: for the only time in my sports writing career, I asked for an autograph from someone I was covering. Ali was signing for people after the press conference, so I stuck my reporter's notebook into the mix and he obliged. It's not like I was on the Ali beat and I figured I'd never seen him again. I did, though, when he attended a Pacers game during the 1999-2000 season and walked into the locker room afterward.
Do I regret breaking this cardinal rule for journalists? I haven't decided. But the opportunity to attend the press conference was worth every penny out of my pocket.
© 1981 The Journal-Gazette, Ft Wayne IN. Reprinted with permission.
NASSAU, Bahamas — Finally acknowledging the landslide-like erosion of his onetime magnificent skills, Muhammad Ali laid his legend to rest Saturday morning.
He did it not with sadness or misgiving, but in the way a man rids himself of a burden; a burden that can only be felt by a man of 39 years and 48 weeks who has been swapping punches with people for more than two-thirds of his life.
"I've been doing this since I was 12," Ali said during the final morning-after press conference of his life, in a room on the third floor of a Bahamian hotel. "It's a joy and a relief to know that it's over."
It had ended 11 hours earlier, a mundane climax to a chaotic week of buildups and letdowns, in the primitive atmosphere of a local baseball field. In losing a 10-round unanimous decision to Trevor Berbick, Ali had backed himself into the final corner, providing inescapable evidence that his was a legend alive in memory only.
Saturday morning, dressed in a black pin-striped suit, he shamelessly admitted that was so. But he also showed why all the reigning champions of his profession, no matter how hard they try to imitate him, will forever be in his shadow.
---
Tagged with:
Muhammad Ali
,
Trevor Berbick