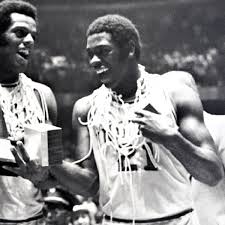 A team of former IU players met the 1984 U.S. Olympic basketball team coached by Bob Knight in an exhibition game at Assembly Hall in 1984. It was quite a collection of talent, the kind of game I'd pay money to see now if a DVD was available.
Afterward, I was struck by the contrast between Quinn Buckner and Isiah Thomas, the point guards who had led Knight's first two NCAA championship teams. Little did I know then I would get to know both of them much better when they worked for the Pacers. And little did they know their dreams at the time of this article would take drastic turns. 
Much more recent One on One episodes for them are available on this site. But this story is a time capsule of their lives in a different era.  
(c) 1984 The Journal-Gazette, Ft. Wayne, IN. Reprinted with permission.
BLOOMINGTON — Two ghosts of championships past returned to Assembly Hall on Friday, and to see them together was a strange, almost haunting, experience.
Quinn Buckner and Isiah Thomas, the respective point guards on Indiana's national championship basketball teams of 1976 and 1981, and the Olympic teams of 1976 and 1980, share a unique bond. By their shared position and accomplishments they are interminably linked. But by their outlook and approach, they are distinctively different.
To see them suited up together in their Indiana uniforms, as they were against the U.S. Olympic team at Assembly Hall, was to witness a unique union, like Johnny Mathis and Michael Jackson teaming for a duet. They are two pieces of the same puzzle, but not interlocking ones.
On the court, Buckner is solid, steady, and unspectacular, leading with fundamental per­sistence and maturity. His performance against the Olympians was typical: six points, two steals, four turnovers.
Thomas is flashy, daring, alternately brilliant and error-prone. He finished with 17 points, eight assists and six rebounds, but 10 turnovers.
---
Tagged with:
Bob Knight
,
Isiah Thomas
,
Quinn Buckner
,
U.S. Olympic basketball team