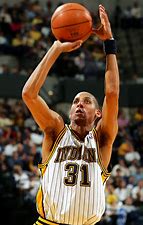 Pacers fans have read and heard so much about Reggie Miller over the years they might think they know everything there is to know. I've written about him plenty, including a couple of stories on this website, but here are 31 things you might not already know. 
His paternal grandfather, L.E. Miller, founded the New Hope Missionary Baptist Church in Memphis in 1916 and was pastor there until 1945. He ordained several men into the ministry, including C.L. Franklin, Aretha's father. C.L. Franklin later performed the marriage ceremony for Reggie's parents, Saul and Carrie.
Saul was a professional musician in Memphis, touring on occasion and playing in bands with the likes of B.B. King, Lionel Hampton, Bobby "Blue" Bland and Ike Turner. Noted jazz pianist Phineas Newborn performed at his wedding. Saul also performed on two recordings as a backup musician, including a historic song called "Rocket 88" in 1951. Some consider it the first rock 'n roll song.
Saul was a good basketball player, too. He was the all-time leading scorer at Hamilton High School in Memphis and his record lasted for 30 years until it was broken by future NBA player Darren Daye. Saul went on to play one season at LeMoyne College and then two at Southern Illinois before he was drafted into the Air Force. One newspaper article mentioned his long shot artistry.
Doctors told his mother to stop pushing during Reggie's childbirth and he became stuck in the birth canal. That caused his ears to stick out, a source of mockery throughout his playing career. One of them, anyway.
---
Tagged with:
Cheryl Miller
,
Reggie Miller
,
Saul Miller