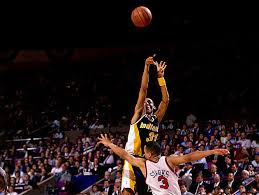 Reggie Miller's eight-point flurry over an 8.9-second stretch in the final minute of a playoff game against New York in Madison Square Garden stands as one of the most iconic moments in NBA history. It assured him a place in the hearts and minds of fans around the world, and influenced lives as well.
You think that's hyperbole? Read on, then. 
It sounded like a meaningless cliché when Tom Hammond threw out the line at the start of the television broadcast. Just another routine, harmless bit of pre-game hype.
"The Garden will be no place for the faint of heart today!" he declared as the Pacers and New York were about to tip off Game 1 of the 1995 Eastern Conference semifinals.
Oh, if he only knew. If only he could have guessed what he and color analyst Bill Walton were about to describe to a worldwide television audience. If only he could have foretold the seismic blast that would send the fans in a sold-out Madison Square Garden home in a state of shock, make Reggie Miller an icon who influenced lives around the globe and, perhaps, drastically alter the course of two franchises, one of which wasn't even playing that day.
Just say "eight points in 8.9 seconds" and NBA fans instantly get it. They'll recognize the reference to Miller's improbable, if not miraculous, scoring flurry that brought the Pacers back from a six-point deficit with 24.7 seconds left to a victory without the need of an overtime. It will live forever as one of the greatest moments in NBA playoff history, sure to inspire anniversary stories for as long as there is an NBA, because, as Walton said at the other end of the broadcast, it was "one of the most remarkable comebacks in all of basketball."
Miller was mostly responsible for it, but he couldn't have done it without a multitude of follies from the Knicks, and even one from a teammate.
---
Tagged with:
1995 NBA playoffs
,
8 points in 8.9 seconds
,
Indiana Pacers
,
Reggie Miller