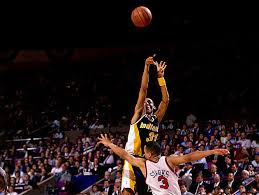 Reggie Miller's eight-point flurry over an 8.9-second stretch in the final minute of a playoff game against New York in Madison Square Garden stands as one of the most iconic moments in NBA history. It assured him a place in the hearts and minds of fans around the world, and influenced lives as well. Seriously.
(c) 2015, Pacers.com. Reprinted by permission.
It sounded like a meaningless cliché when Tom Hammond threw out the line at the start of the television broadcast. Just another routine, harmless bit of pre-game hype.
---
Tagged with:
1995 NBA playoffs
,
8 points in 8.9 seconds
,
Indiana Pacers
,
Reggie Miller