Since entering the NBA in 1976, the Pacers have had eight teams reach the conference finals – in 1994, '95, '98, '99, 2000, '04, '13 and '14. All created a lot of excitement and are fondly remembered by fans today despite falling short of a championship.
One of them, however, stands above the rest for drama and intrigue, even more than the group that played for the championship in 2000. We're talking about the Pacers team that took Chicago to the limit in 1998, nearly unplugging the Bulls' title run in Game 7 of the conference finals at the United Center. Many followers of the Pacers believe it was better than the 2000 Finals team (I'm not one of them) and perhaps the best NBA Pacers team of all.
Whatever. Regardless of how it ranks in the eye of the beholder, it stands out for its fresh enthusiasm, splendid chemistry, veteran leadership, raw talent and, perhaps, unfulfilled potential.
It fell just six points  short of advancing to the Finals, where it would have had a legitimate opportunity to defeat Utah for the championship, as Chicago ultimately did. Instead it had to settle for a legacy of thrilling moments and lasting memories that remain clear in the minds of those who produced them or watched them.
The returning players were coming off a disappointing 1996-97 season, Larry Brown's last as coach, in which they failed to make the playoffs for the first time since 1989. The core of the team had proven its talent and potential by advancing to the conference finals twice under Brown but was in a dead heat against Father Time. Returnees Reggie Miller (32 years old), Mark Jackson (32), Rik Smits (31) and Derrick McKey (31) had passed the threshold of 30, as had trade acquisition Chris Mullin (34) and free agent signee Mark West (37). Antonio Davis (29), Dale Davis (28), Travis Best (25) and Fred Hoiberg (25) all were beyond their break-in period.
Jalen Rose had been cast off by Denver after two years and spent a frustrating season riding Brown's bench with the Pacers. He was in need of career rehab but had at least displayed the potential of a player who was drafted 13th overall three years earlier. Even the two rookies were experienced. First-round draft pick Austin Croshere (22) had played four years at Providence and second-round pick Mark Pope (25) was coming off a five-year collegiate career that included a transfer and a subsequent season in Istanbul, Turkey.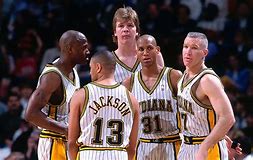 That group would go on to win 58 games, then a franchise record for its NBA history, and sweep through the first two rounds of the playoffs before colliding with the Bulls.
Here's how it unfolded.
---
Tagged with:
Antonio Davis
,
Austin Croshere
,
Chris Mullin
,
Dale Davis
,
Derrick McKey
,
Donnie Walsh
,
Fred Hoiberg
,
Jalen Rose
,
Larry Bird
,
Mark Jackson
,
Mark Pope
,
Mark West
,
Reggie Miller
,
Rick Carlisle
,
Rik Smits
,
Travis Best