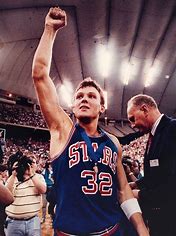 I didn't cover Damon Bailey in high school or at IU, but have had a few occasions to talk with him individually. I found him accommodating, humble and, best of all, completely sane. Which is saying something, because a lot of people lost their minds over him while in high school or in college. I once wrote a front-page story for The Indianapolis News that told of one woman who named her two children Damon and Bailey after him. He never struck me as affected by that sort of thing, though. 
This story was written in 2017. Bailey did not stay at Butler after his daughter's career ended, instead moving back to Bedford to focus on his business. He suffered a major tragedy in September of 2020 when his father was killed and his mother seriously injured in a motorcycle accident. Which just proves even the most popular people are vulnerable to the same ill fates as everyone else. 
What if in 1990, the day after Bedford North Lawrence won the state championship at the RCA Dome before 41,000 people and a national television audience, you had been asked to predict what Damon Bailey would be doing 26 years later.
Retired from an NBA career? A Naismith Hall of Famer? Head coach at Indiana University? Mayor of Bedford? Governor of the state of Indiana?
Each of those guesses would have seemed more believable than what has turned out to be his reality: assistant women's basketball coach at Butler University. That's assistant coach. For the women's program. At Butler.
It might not be what anyone expected, Bailey included, but the point of this story, and his story, is that it's all good. He's there by choice, helping coach a team that includes his oldest daughter, but open to the idea of staying beyond her career and proving his heart is in the soul of basketball rather than personal wealth or prestige.
It would require a lot of head-scratching to come up with someone who better represents the tradition of Indiana basketball, at least the rural version of it, better than Bailey does.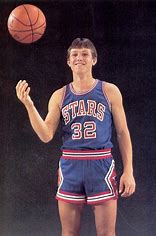 He was a high school star – make that sensation – who led his team to the state championship, set a state career scoring record and earned Mr. Basketball honors. He was declared by some the national Player of the Year and received national acclaim rivaled only by Sports Illustrated cover boy Rick Mount in 1966. He went on to become the Big Ten Freshman of the Year at Indiana and earned first-team all-Big Ten and third-team all-American recognition as a senior, contributing to hugely successful teams along the way. He was drafted by the Pacers and spent a season on their injured list, then played for Fort Wayne's entry in the CBA. He coached the Bedford boys' and girls' teams, winning a state championship with the girls, and now, not as surprisingly as you might think, helps with Butler's women's team.
From the perspective of a middle-aged man – he turned 45 in October – he can look back on his unique career with pride and few regrets. But his most impressive accomplishment could very well be his sanity. While everyone around him seemed to lose theirs during his high school and college careers, he has remained grounded, never straying far from reality.
---
Tagged with:
Bob Knight
,
Damon Bailey