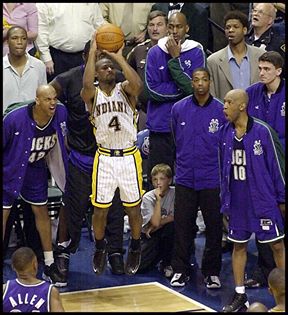 I covered the Pacers for The Indianapolis Star from 1996 to 2008. Their playoff run to the NBA Finals in 2000 was a highlight of that period, of course. Game 5 of their first-round series with Milwaukee was the highlight of that season. And Travis Best's three-pointer from the left corner was the highlight of that game. 
I took a look back on what I consider the biggest shot in Pacers franchise history on the 20-year anniversary of that game, May 4, 2020. 
Let's start with the photograph, Randy Baughn's timely snap of the shutter that captures the biggest shot in the history of the Pacers' franchise. Take a close look.
Travis Best is cornered, surrounded by men in purple. They are prevented from doing physical harm by clearly defined boundaries, but they are threatening. Scott Williams is standing behind him, shouting something. An open-mouthed Sam Cassell is off to his left, apparently doing the same. Danny Manning, Rafer Alston and Mirsad Turckan are standing nearby in passive poses but are practically close enough to touch him. J.R. Reid, in street clothes, stands on the periphery.
Ray Allen, meanwhile, is positioned to confront him but too far away to do anything about what is going to happen.
On May 4, 2000, Best hit a shot that salvaged the best season in the Pacers' NBA history and the reputations of notable others. His three-pointer launched from deep in the left corner of the Conseco Fieldhouse court in the decisive game of the Pacers' first-round playoff series against Milwaukee gave the Pacers a two-point lead with 16.5 seconds left.
They clung to it for dear life as the final seconds slowly ticked off the scoreboard before more than 18,000 emotionally drained fans and walked away with a 96-95 victory that not only won their best-of-five series but propelled them all the way to the franchise's only NBA Finals appearance.
All these years later, Best considers that shot the highlight of his basketball life.
"Definitely, because of the implications," he says.
So many implications.
If not for that made shot, which erased a horrible shooting game for Best, the Pacers likely lose to the Bucks and live forever with the ignominy of a No. 1 seed losing to an eighth-seeded team. If that happens, general manager Donnie Walsh is forever second-guessed for not breaking up his aging team following the previous season's loss to New York in the conference finals. Larry Bird's coaching career is viewed in a much harsher light, too, and one of Reggie Miller's greatest postseason performances is smothered by the fallout of a crushing defeat.
It's easy to forget now, but Miller scored a playoff career-high 41 points in the game, 18 of them in a 7 ½-minute flurry in the fourth quarter. But he also made a key play that set up Best's strike, a simple basketball play that would have eluded many players in the heat of the moment, and one that speaks just as highly of his ability to perform in the clutch as all those clutch three-pointers.
"My recollection of that game is Reggie scoring that 41 and getting us out of that game," Best says today from his home just outside of Springfield, Mass., where he grew up. "I was happy doing my little part."
Best's part was more than little. It was the climax of a big story of preparation, persistence, patience and basic basketball execution that will resonate for the life of the franchise.
All these years later, it seems almost as if the Pacers were fated to win this game, that the basketball gods had rewarded them with a massive makeup call for past disappointments. They trailed by as many as 10 points, and by six in the fourth quarter, and by three in the final three minutes. Miller kept bringing them back, closer and closer, until finally hitting what seemed like the gamebreaker, a three-pointer that provided a 93-92 lead with 1:37 remaining.
He had 41 points at that point, his playoff career high and a playoff high for any Pacer in the franchise's NBA history. But the Pacers couldn't build on it. Their defense forced a miss, but Miller dribbled the ball off his foot driving along the right baseline and Tim Thomas came back with an 18-footer with 48 seconds left to return the lead to Milwaukee, 94-93.
On the Pacers' next possession, Best drove to his right past Bucks backup guard Vinny Del Negro – a fellow Springfield, Mass. native – and missed a short shot in the lane. Dale Davis, unable to control the ball with his left hand, missed a put-back, but the deflected rebound bounced off Bucks forward Glenn Robinson and out of bounds with 29.4 seconds left. A big break for the Pacers.
After a timeout, they inbounded the ball from underneath their own basket. Jalen Rose passed to Best, who ran off a Davis screen and quickly fired from just inside the three-point line on the left wing. It hit the back of the rim and bounced to the right, where Davis managed to corral it 15 feet from of the basket.
Some of the greatest moments in Pacers history have resulted from offensive rebounds, and this was going to be another one.
Davis flipped the ball to Miller in the right corner, but with Bucks center Ervin Johnson squaring up on him Miller gave a quick fake and dribbled hard to his right, brushing Johnson and tightrope-dribbling along the baseline. It's not clear on the broadcast, but his right foot might have grazed the end line. He passed to Best in the left corner and Best immediately fired a pass to Rose out front, a step outside the three-point line.
"The crowd is silent," TNT announcer Marv Albert said on the broadcast.
Not for long.
With tension mounting, Rose took three dribbles to his left toward the basket while Miller raced to the left wing to get open for a shot. That would have been a logical target for Rose, who drew a double team from the scrambled Bucks defense, but he passed instead to a wide-open Best in the left corner. Ignoring the shouts of all those Milwaukee players surrounding him, not to mention the memory of all of his previous missed shots, he swished it.
"You talk about believing in yourself! This young man was 2-for-14 from the floor!" TNT commentator Mike Fratello said as the Bucks called timeout to prepare for the final 16.5 seconds.
Amid the bedlam, Best merely walked slowly toward midcourt, a blank expression on his face, and raised his arms. He was relieved, not overjoyed. Starting point guard Mark Jackson met him as he approached the Pacers bench and embraced him, then Bird gave him a quick pat on his behind while walking out to talk with the assistant coaches. But too much time remained to celebrate anything.
Sam Cassell had fouled out of the game, so Ray Allen took over as Milwaukee's  point guard. He exchanged Best for Rose as a defender after dribbling off a screen out front, then beat Rose on the right baseline. Davis came over to force a miss but Davis was called for a questionable foul when he and Johnson fought for the rebound with 6.2 seconds left.
Johnson missed the first attempt. Fratello said on the broadcast that Bucks coach George Karl had told him to miss the second shot purposely to create a rebound opportunity, but Johnson hit that one. The Pacers now had a one-point lead and the ball.
Milwaukee didn't manage to commit a foul until Rose was grabbed with just 1.4 seconds left. Rose was 4-of-4 from the line in the game and had been an 83 percent shooter during the regular season but wasn't yet ready for this kind of moment: he missed both. Allen grabbed the rebound and called timeout with 1.1 seconds left. That left time only for Allen to take Del Negro's inbound pass on the left sideline near midcourt, dribble once to his left and fling an off-balance shot from about 35 feet that didn't come close.
Even then, relief reigned for the Pacers. There was no on-court celebration, just hugs and handshakes for the eighth-seeded team that had nearly derailed their season. Miller, waiting to go on the air with his sister Cheryl, buried his head in her shoulder for a moment to collect his thoughts.
"You've got to give Milwaukee all the credit in the world," he said. "We might have won the series but they were the better team. We're fortunate to be moving on.
"Experience won out tonight."
Experience, yes. But also homecourt advantage, some fortunate bounces and faith – especially from Bird and Best. Bird said he never considered pulling Best from the game despite his poor shooting because he was playing great defense on Allen, who finished 6-of-21 from the field.
"I was going to leave him in there all the way," Bird said afterwards. "I knew he would get his shot sooner or later."
Best thought so, too.
"I felt like all the shots were good," he recalls all these years later. "I didn't feel any lack of confidence. I felt like I needed to play free and play my game and live with the results. That's not a game you can hold back on. You can't be afraid of losing. I was proud of the way I played. I wasn't proud of the way I shot the ball, but I was confident and that's what allowed me to hit that shot. All the post-practice work we would do behind the 3-point line, that allowed me to have the confidence.
"When the ball was swinging to me, I knew all the implications. But all the practice I put in allowed for a natural rhythm to release that shot."
Miller had taken notice of that from his position on the wing. Back in the locker room after the game, on his way to the press conference, he stopped by Best's locker, gave him three quick slaps of the hand and laughed.
"You were like at shooting school!" he said, then acted out a relaxed shooter at the foul line, taking a deep breath, bending his knees and following through on a shot.
Not a single shot in Pacers franchise history can reasonably be considered bigger than Best's in terms of impact. None of the ABA championships, in 1970, '72 and '73, hinged so precariously on a single field goal. Byron Scott's game-winning three-pointer in the opener of the first-round playoff series with Orlando in 1993 was huge, lighting a fire that burned all the way to the conference finals. But it was a winning shot in Game 1. The Pacers would have had other opportunities to win that series if he had missed. Miller's eight points in 8.9 seconds will stand forever as an iconic moment, but that was a sequence rather than a shot, and that season ended in the conference finals.
Best's shot stands as the byproduct of a winning mentality that had been honed by plenty of hard knocks in the playoffs, including losses in the conference finals the previous two seasons. Miller's drive on the baseline, the pass to Best, the pass to Rose and the dribble-drive and pass back to Best was a classic piece of offensive execution under the most challenging of circumstances.
"It took everything we've ever learned to find some kind of way to beat them," Miller said after the game.
All these years later, Best agrees.
"That pass (from Rose) says a lot about our team," he says. "Reggie was right there on the wing, the person we always wanted to have the ball in his hands. The fact we knew each other so well and had that confidence in one another, that Jalen would give me the ball … everybody on that team had earned that respect from one another from the trials and tribulations we had gone through together. It says a lot about the entire team. Which is why we were able to go so far."
Best mostly lays low these days, but he does get to Indianapolis occasionally to visit his brother. People often bring up the shot to him when he's out and about in the area, and it always gets shown on the scoreboard screen when he attends a game at Bankers Life Fieldhouse.
It has given him what every athlete dreams of, a picture-perfect highlight that will outlive his career and even his life.
"You scrap and fight so hard, you want to leave one for the annals," he says.
This one will live forever.
Game highlights can be seen here.
A video and breakdown of the play that led to Best's shot can be seen in the Audio/Video section.
Tagged with:
2000 NBA playoffs
,
Jalen Rose
,
Reggie Miller
,
Travis Best