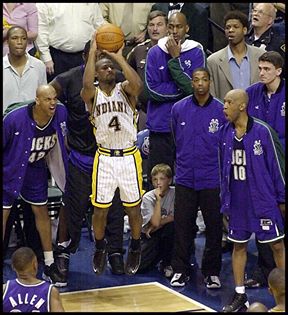 I covered the Pacers for The Indianapolis Star from 1996 to 2008. Their playoff run to the NBA Finals in 2000 was a highlight of that period, of course. Game 5 of their first-round series with Milwaukee was the highlight of that season. And Travis Best's three-pointer from the left corner was the highlight of that game. 
I took a look back on what I consider the biggest shot in Pacers franchise history on the 20-year anniversary of that game, May 4, 2020. 
Let's start with the photograph, Randy Baughn's timely snap of the shutter that captures the biggest shot in the history of the Pacers' franchise. Take a close look.
Travis Best is cornered, surrounded by men in purple. They are prevented from doing physical harm by clearly defined boundaries, but they are threatening. Scott Williams is standing behind him, shouting something. An open-mouthed Sam Cassell is off to his left, apparently doing the same. Danny Manning, Rafer Alston and Mirsad Turckan are standing nearby in passive poses but are practically close enough to touch him. J.R. Reid, in street clothes, stands on the periphery.
Ray Allen, meanwhile, is positioned to confront him but too far away to do anything about what is about to happen.
On May 4, 2000, Best hit a shot that salvaged the best season in the Pacers' NBA history and the reputations of notable others. His three-pointer  launched from deep in the left corner of the Conseco Fieldhouse court in the decisive game of the Pacers' first-round playoff series against Milwaukee on Thursday, May 4, 2000 gave the Pacers a two-point lead with 16.5 seconds left.
They clung to it for dear life as the seconds slowly drained off the scoreboard before more than 18,000 emotionally drained fans and walked away with a 96-95 victory that not only won their best-of-five series but propelled them all the way to the franchise's only NBA Finals appearance.
All these years later, Best considers that shot the highlight of his basketball life.
---
Tagged with:
2000 NBA playoffs
,
Jalen Rose
,
Reggie Miller
,
Travis Best