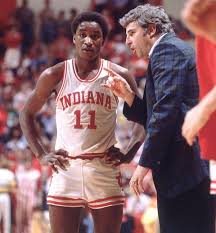 I was working makeup in the office the night Isiah Thomas was honored with the annual Red Coat award by the Mad Anthonys charitable organization in Fort Wayne.  The staff member assigned to cover his ceremony came back to the office in a state of shock after hearing his remarks. 
I was able to reach Thomas the next day on the telephone, and he offered a sincere apology. All these years later, it remains the most amazing acceptance speech you've ever heard.
(c) 1983 The Journal-Gazette, Fort Wayne, IN; Reprinted by permission
Saying he "totally misjudged" his audience. Isiah Thomas profusely apologized Tuesday night for profane remarks he made during his acceptance speech at the Mad Anthonys' banquet Monday night.
Thomas, who was honored as the Celebrity of the Year by the Mad Anthonys charity organization at the Orchard Ridge Country Club, shocked the audience of about 400 people when he related some of the things he had learned from basketball coach Bob Knight while as a player at Indiana.
"When I came to Indiana I was a pretty good basketball player, and had a lot of talent, but he gave me some other things," said Thomas, who left Indiana after his sophomore year, in which he led the Hoosiers to the national championship to turn professional. "The things he taught me I will never forget."
Thomas then listed four sexually-related obscenities.
Thomas, contacted by The Journal-Gazette at his Bloomington apartment Tuesday evening, said he felt embarrassment over his remarks and welcomed the opportunity to apologize.
---
Tagged with:
Bob Knight
,
Isiah Thomas
,
Mad Anthony's golf outing