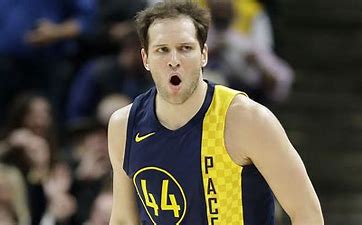 This was written in 2019 during Bojan Bogdanovic's second and final season with the Pacers. He signed a lucrative four-year contract with Utah the following summer and the Pacers filled his spot with T.J. Warren. A lot of fans and some media were pessimistic about that trade-off at the time, but it worked out nicely for the Pacers. The stats for the two players were similar in the 2019-20 season, but Warren's salary was about $6 million less.
That's the NBA for you. Time moves on and so do players. But Bogdanovic stands as a great success story and a great pickup for the Pacers, who saw through the shallow elements of analysis and provided an opportunity to advance his career.   
He's shy by nature and living in a foreign country, so it's no wonder he isn't the most talkative guy in the Pacers locker room. After most home games he manages to quietly escape while reporters are huddled around one of his teammates and head for the safety of his downtown condo, where he lives alone.
He's a shooter, too, a player whose NBA career hinges on the accuracy of his three-point shot, which currently is among the best in the league. Shooters aren't out there to grind, they're there to do the fun stuff. To be the piano player rather than the piano carrier, as the saying goes.
He also has a pleasant, even-tempered demeanor. Something really big has to happen, such as the lack of a foul call when he's trying to get off a shot at the end of that game in Toronto on Dec. 19 to inspire much emotion from him.
Don't, however, make the mistake of attaching the dreaded "soft" label to Bojan Bogdanovic.
---
Tagged with:
Bojan Bogdanovic