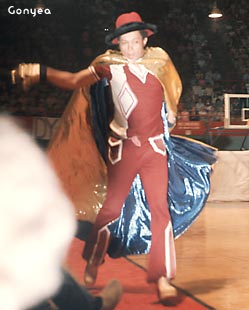 Anyone who followed the Pacers in the Seventies remembers Dancing Harry, who dropped in to become an integral part of their run to the ABA finals in 1975. He departed almost as quickly and mysteriously as he arrived, and left behind a lot of memories. For better and for worse.   
You won't find Marvin Cooper's name on the Pacers' all-time roster, but he was a player for them back in the day. Or, perhaps, playa would better describe him, although he came along before that particular bit of vernacular entered the lexicon.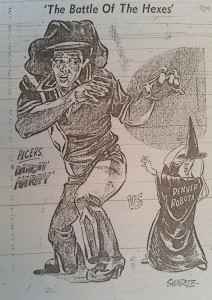 Let's just say Cooper was a notable participant in the Pacers' Cinderella playoff run 40 years ago, perhaps the most dramatic the franchise has had that didn't lead to a championship. After finishing the regular season with a 45-39 record, they upset San Antonio in the first round, upset Denver in the second round, and played Kentucky for the ABA championship before losing in five games. Cooper's performances brought fans to their feet, brought energy to the games and might even have intimidated some opponents – or at least distracted them.
You won't find Marvin Cooper's name on the tips of many tongues of longtime Pacers fans, either. But they probably remember Dancing Harry – or Dancin' Harry, as newspapers of the day liked to call him in their attempt to be hip in a 1975 kind of way. Cooper conjured up an idea for an act and, all too briefly, made a name and a little money for himself before disappearing back into the fog of real world drudgery and difficulties.
Now he stands as a relic from a simpler time, when professional basketball was either more fun or more ridiculous than today, depending on your point of view. Pacers fans today are accustomed to non-stop professional-grade entertainment at games at Bankers Life Fieldhouse. A man in a blue panther costume drops from the rafters to the court before games and is yanked back up during the game. Young men jump off trampolines, somersault and dunk between quarters. Halftimes bring everything from dogs catching Frisbees to a woman riding a unicycle and flipping plates from her feet to the top of her head.
Back in the Seventies, though, a man could earn national notoriety and a couple hundred bucks by putting on a funky hat and maybe a cape, or even just wear his street clothes, and come out of the stands to put a hex on the visiting team. Dancing Harry did, anyway. During timeouts he would stand near the opposing team's huddle, turn sideways, spread his legs, jerk himself into a crouch, hold up his arms, point his fingers at the enemy players and shake his hands. He called it putting a "whammy" on them.
The fans went crazy, and the players enjoyed it.
"It was fun stuff," Billy Knight, a Pacer rookie when Harry joined the team, recalls. "We loved it."
So did Harry.
"I know I had a little influence," he says. "I could move a crowd."
If only someone could have influenced him to move away from the scene when the time came.
***
Cooper first caught the eye of the nation from his hometown of Baltimore in the late 1960s. The Bullets were a promising team at the time, led by future Hall of Fame guard Earl "The Pearl" Monroe, and played occasionally on the NBA's weekly telecast. Cooper was a traveling salesman for Park Sausage, working up and down the East coast, and supplemented his income by singing in area nightclubs and hustling in card games and pool halls.
He successfully hustled Monroe in a Baltimore pool hall one day and Monroe paid him off with tickets for a Bullets home game. They struck up a friendship and Cooper attended more games. The seats were close to the court, so when Cooper got into the spirit of the occasion and stood up to dance to the music during timeouts, some of the players noticed.
Over time, one of them – he can't remember which one – encouraged him to do something more than dance, so he graduated to putting hexes on referees during timeouts. He'd sneak up behind a referee and do his thing. The fans would laugh. The referee would turn around. Cooper would play innocent and the fans would laugh some more. Eventually, he moved on to putting hexes on opposing players, and became a fixture at the games and a friend of several of the Bullets.
One day Cooper was in New York with the team the morning after it had played the Knicks at Madison Square Garden. Bullets forward Gus Johnson told him he had just read an article in one of the newspapers that referred to him as Dancing Harry. It stuck. Monroe was traded to the Knicks early in the 1971-72 season, sending the Bullets into decline, so Harry shifted his allegiance to New York. He asked for permission to continue his act there. The Knicks management said no, but the players would soon say yes.
"One night they were losing to Boston by 20 points and Willis Reed asked me why I wasn't dancing," Cooper says. "I told him and he said, 'The hell with management, we're losing.' I jumped down and got on the floor and the place went crazy and the Knicks came back and won that game. They didn't bother me anymore."
Cooper continued performing as the Knicks reached the NBA finals in 1972 and became a fixture the following season on their way to an NBA championship (he can briefly be seen here at the 1:25 mark). Walt Frazier took him to buy some clothes so he looked the part. He even got a few endorsements, such as for a local athletic shoe store, and made a few club appearances. It was a few hundred dollars here and a few hundred dollars there, but it was all adding up. So was his fame, nationally, because of all the air time.
He was a free agent, so he worked games for whatever team would have him (and pay him). It so happened that on April 16, 1975, he had just put down his bag upon arriving at his residence in Baltimore after working a game the previous night for the New York Nets when the phone rang. It was Sandy Knapp from the Pacers office, calling to ask him to fly to Indianapolis – that night – for a playoff game against San Antonio at Market Square Arena. His mother drove him to the airport, where he picked up his ticket and he flew off to the next gig, for a $200 fee, plus room and board.
That was for Game 6 of the Hang 'Em High series, still one of the most dramatic and emotional in franchise history. The Spurs had finished six games ahead of Indiana in the regular season but the Pacers won the first three games of the first-round series, including the first two in San Antonio. They lost Games 4 and 5, however, by which time bad blood was boiling. Play was becoming increasingly physical, fans were becoming increasingly vocal and vulgar and Pacers coach Bob "Slick" Leonard had taken to threatening referees and Spurs coach Bob Bass in the newspapers.
The Spurs had won Game 4 by one point in Indianapolis before a rowdy crowd at Market Square Arena. Before Game 5 in San Antonio, the Spurs public address announcer "vilified the Indiana fans" according to the Indianapolis News and implored the Spurs fans to behave in a more civilized manner. They didn't, and neither did the players. Spurs forward Rich Jones answered an elbow from Pacers guard Kevin Joyce with a right fist to Joyce's chin, and was kicked out of the game. The Spurs went on to win, 123-117, pulling within 3-2 in the series.
Teams flew commercial then, so the Pacers stayed overnight to fly out the next morning. That evening, Leonard called Indianapolis Star beat writer Bill Benner and demanded to have a piece of his mind published in the next morning's newspaper.
"If that's the way they want to be, then they've really asked for it. If they want to bad-mouth our team, our franchise and our city, then we are really going to go after them Wednesday night," Leonard said. "I'll take the microphone myself if I have to incite our fans. I want our crowd fired up and angry.
"If they want a bloodbath, that's what it will be."
***
That's the environment into which Cooper was dropped for Game 6.
The Pacers' front office members were pulling out all the stops, throwing a kitchen sink's worth of symbolism at the Spurs. They passed out four-leaf clovers and rabbit's feet to fans for good luck. They hung a ladder from the MSA ceiling over the aisle-way leading from the Spurs locker room to the court – forcing them to capitulate to the bad-luck omen by walking under it. They went to the workplace of media members and deputized them and gave cowboy hats to the front office and stat crew members to wear at the game.
The finishing touch was Dancing Harry. His act didn't exactly fit into a Wild West theme, but whatever. He was famous from his appearances on national television and certain to excite the fans. And he did. (1)
The Pacers won Game 6 and the series, 115-100. George McGinnis, who shared league MVP honors with Julius Erving that season, finished with 32 points, 23 rebounds and 14 assists. Rookie Billy Knight scored 33 points on 14-of-22 shooting. George Gervin led the Spurs with 34 points. It was just a first-round series, but it meant enough to Leonard that he had ordered champagne to be waiting on ice in the post-game locker room. The Pacers celebrated as if they had just won a championship.
"It was so invigorating," Cooper recalls. "When I came out (on the court), there was so much electricity in the air. Everybody was used to seeing me in New York. I had the fans in the palm of my hand. It was so annoying to San Antonio. George told me later, 'Man, you brought the house down.'"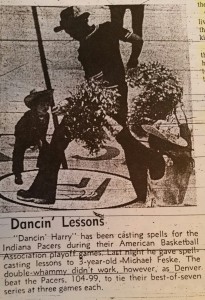 It's impossible all these years later to measure Dancing Harry's impact, but who's to say he didn't help? The fans loved him, the players seemed to feed off the fans' excitement and the Pacers had won. So, he was held over for the second-round series with Denver. Coach Larry Brown had led his team to an ABA-best 65 wins that season, 20 more than the Pacers, and it had lost just two home games. The Pacers were going to need all the help they could get.
It's unclear from media accounts whether Dancing Harry was on hand for Game 1 in Denver, but he was definitely there for Game 2. He had flown out on a private prop plane, separate from the players, with front office personnel. After losing the series opener, during which McGinnis bent a rim with a vicious slam-dunk, the Pacers won the second game, 131-124, to take homecourt advantage. Knight, left open for easy shots because Denver double-teamed McGinnis, scored 44 points on 18-of-22 shooting, and Billy Keller scored 21 in 23 minutes.
Harry's fame was growing with each victory, and his lifestyle followed suit. He was taken to a clothing store at 38th and Illinois to acquire some more appropriate threads, which the Pacers paid for by trading game tickets. He also got a theme song. Benner had suggested to Knapp the Leo Sayer song, "Long Tall Glasses (I Can Dance)" which had reached No. 9 on the U.S. charts in 1974, because it included lyrics about dancing. She agreed and it caught on immediately with the fans.
"It was like Pavlov's dog," she said. "The crowd would practically salivate every time the song played. It became a conditioned response."
For this round, the Pacers' motto became "Hang 'Em a Mile High," Denver being the Mile High city and all. A mock funeral was held for the Nuggets before Game 3, and an effigy of one of the players, hanging from a noose, was lowered from the Market Square catwalk. The Pacemates packed toy pistols, wore white cowgirl hats and paraded wanted posters of some of the Nuggets players. Dancing Harry's picture was on the cover of the game program. According to newspaper accounts, he wore a gold lame' cape and gloves, a feathered cap trimmed with two rows of white fur, a gold turtleneck shirt and brown platform shoes that night.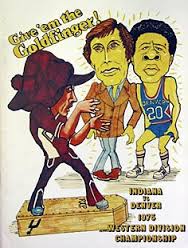 The Pacers won, 118-112, to take a 2-1 lead. Late in the game, the victory assured, Harry grabbed the public address microphone and urged fans to buy tickets for Game 4. Afterward, he celebrated in the locker room with the players. He had become a virtual team member, a 32-year-old who had been around the NBA block a few times, with plenty of stories to share.
"He was great," Knight says. "Everybody loved him. He was a cool dude. He had fun with the whole thing. I didn't think he took himself too seriously. He just enjoyed it and tried to entertain everybody."
Even Leonard, an old-school veteran of the NBA, was caught up in the spirit. Or at least claimed to be.
"I think it's great," he told a Sports Illustrated reporter. "I know I'd hate to have Harry put his famous whammy on me."
Harry and his whammy didn't guarantee anything, of course, and too much celebration tends to cause a hangover. The Pacers were trounced in Game 4, 126-109, sending the series back to Denver. Harry went, too. He had, according to Knapp, a "phone fetish," and could hardly pass one without calling someone. It so happened there was a telephone on the plane, so he called radio station WIBC and went live on the air. He also recorded a promo that was played throughout the playoffs. He called his mother, too, but she refused to believe anyone could make a phone call from an airplane, and told him he must have been drinking.
To Harry's credit, he quickly spawned imitators. If a mascot could help a team win playoff games, the Nuggets weren't going to pass up the opportunity. They trotted out Robota, "The Wicked Witch of the West," to put a hex on the Pacers. Dressed in black, with long blonde hair, she stood nearby, seriously and silently, holding a broom, as they warmed up before the game. She also stuck pins in a life-sized cutout of McGinnis while standing next to a "smoking" cauldron of dry ice at midcourt, and later stood silently behind the Pacers' bench during the game.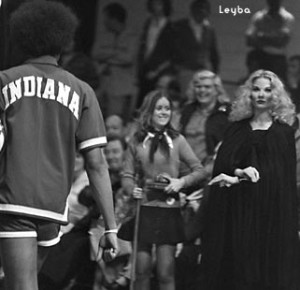 It didn't work. A sellout crowd of 7,483 in tiny Auditorium Arena watched the Pacers outscore the Nuggets 30-13 in the fourth quarter on their way to a 109-90 victory to go up 3-2. McGinnis admits to having been spooked a bit by the witch before the game, but he shook it off. He scored six consecutive field goals in the final period, two of them three-pointers, and he and Knight combined for 55 points. By the end, the Denver fans were booing their own team.
The Indianapolis fans, meanwhile, were wild about their mascot. Before Game 6, a closeout game for the Pacers, both newspapers were in full Harry mode, featuring him in cartoons, photos and headlines. The Indianapolis News preview for the April 30 game carried the following awkward headline:
Do Any Nuggets Care Even
For One Last Whirl With Pacers?
The first letter of each word in the first line was bold-faced, spelling out "DANCE."
The story began:
"Dancing. There'll be plenty of it tonight at Market Square Arena.
"It will begin with Dancing Harry. He'll boogie to the rockin', stompin' beat of Leo Sayer's "Long Tall Glasses" a pop-rock tune that has become the unofficial theme song of the Indiana Pacers."
Lyrics from the song were interspersed throughout the story. But just as in Denver, the home team's buildup backfired. The Pacers lost, 104-99, before a record crowd of 17,421 at MSA.
Leonard didn't blame Harry, though. Taking note of the Nuggets' 31 foul shot attempts and the Pacers' 13, he declared the game to be "the stinkingest job of officiating I've ever seen."
"All you ask for is a fair chance," Leonard added. "Well, we sure as hell didn't get it tonight. Every call went against us. We didn't get a blow all night. Let's let 'em call 'em the same way Saturday night in front of their fans and we'll see what kind of guts they have."
Lost in the hysteria was that McGinnis had turned in what's perhaps the only quadruple-double in Pacers franchise history, although not a wholly-desired one: 26 points, 14 rebounds, 10 assists and 12 errors.
So it was back to Denver for the deciding Game 7. Harry went along once again, this time with a lucky stone given to him by Pacers' president Tom Binford, who claimed it had belonged to the Apache Indian warrior, Cochise. When it was brought up to Harry that Cochise probably hadn't been the luckiest of men, he responded, "Hey, Cochise never lost in Denver."
The Pacers didn't lose this time. Harry performed his whammies while the Denver fans booed and tossed coins. One even threw a whiskey bottle that landed at his feet. Harry's impact on the Nuggets can't be measured, but the impact of some of the Pacers can. McGinnis finished with 40 points, 23 rebounds and eight assists, and Keller scored 23 points – 19 in the first half – as the Pacers held on for a 104-96 victory and the Western Division championship. Champagne flowed in their locker room and on the flight home, where hundreds of cheering fans greeted them at the airport, and then flowed some more, along with other lubricants, at Leonard's Carmel restaurant, where the party continued after the team's arrival the next day.
***
The season wasn't over, but Leonard already was calling it his most enjoyable with the Pacers because of the team's "cohesion," surpassing that of even his three ABA championship teams. They were moving on to the league finals against Kentucky, which had won 58 games during the regular season in the Eastern Division.
They were going to have to be patient, however. The Colonel's arena, Freedom Hall, was booked and not available until May 13, meaning the Pacers would have a 10-day break between series. Kentucky would have an even longer wait, having been off since April 28. Two of the Colonels, Louie Dampier and Artis Gilmore, had driven to Indianapolis to watch and scout Game 6 against Denver, when the Pacers were trying to close out the series.
Harry stayed in Indianapolis during the break, but not at the Pacers' expense. He had been put up in a hotel originally, but later met a woman who worked for AUL who offered him a place in her home. More than a room, actually. She became his girlfriend, although he was married and had an estranged wife back in Baltimore. He was feeling at home in Indianapolis by then. He socialized with a few of the players, was a welcome guest at parties hosted by the socially elite, was taken to the Speedway to meet the racers, and just generally reveled in Hoosier Hospitality.
"The whole city was open to me," he recalls.
It was going to take more than a mascot to overcome the Colonels, though. Having lost to the Pacers in the 1973 finals, they now had the superior team. Harry did his best, though, performing at home and road games alike. Leonard's wife, Nancy, drove him to the games in Louisville by herself in a borrowed RV, all the way imagining what a police officer who pulled them over might think.
Just like Denver, Kentucky felt compelled to come up with an answer to Harry: Superfly. He was a 13-year-old boy, Michael J. Tolliver, who donned a white suit, hat, gloves, shoes and cape, carried a cane, and danced and tumbled to the delight of the fans. According to a Sports Illustrated article he made Harry look "shabby" by comparison. The Pacers looked a little worn-out, too, as Kentucky won the series 4-1 for its only ABA title.
A turning point had come in Game 2, when Keller hit a three-pointer from midcourt at the final buzzer that would have won the game and tied the series, but the referees ruled it hadn't left his hand in time. The Pacers filed a protest, and after Kentucky won Game 3 as well, ABA commissioner Dave DeBusschere came to Indianapolis to review tapes of the call in question. He ruled in the referees' favor, meaning the Colonels led 3-0 instead of 2-1. The Pacers won Game 4, but lost Game 5 back in Louisville despite 40 points from Knight and 31 points, 11 rebounds and nine assists from McGinnis.
It would be McGinnis' last game with the Pacers before he jumped to the NBA. It was the beginning of the end for Harry, too, at least in Indianapolis. He was brought back occasionally the following season, but without McGinnis the Pacers were a rebuilding team beyond the help of any mascot.
Cooper would go on to take his act wherever it was welcome. McGinnis lined him up to work some games the following season for his new team in Philadelphia. Harry also worked for the New York Nets, in what turned out to be the final season of the ABA's nine-year history. He became friends with Julius Erving and was among those tossed into the shower when the Nets won their championship.
He made an appearance for the Indiana Loves in the ill-fated World Team Tennis association at the Convention Center, too, annoying Ilie Nastase to the point Nastase chased after him with a tennis racket. He also accepted a few hundred dollars to perform for Dallas in a Monday Night Football game against Buffalo in November of 1976.
He was taken to meet Bills running back O.J. Simpson the night before that game in Simpson's hotel suite. Harry remembers it being filled with "women prettier than the cheerleaders." Simpson, when introduced to Harry, glared at him and asked the reason for his presence.
"I just go where the money is," Harry told him. "I can leave. You pay me money to come to Buffalo, I'll dance in the snow."
Simpson shook his hand and took him into another room. He asked Harry to bring an orange to him before the game (because O.J. was a common abbreviation for orange juice) so that he could bite into it. The TV cameras would pick it up, no doubt, but Harry declined because the Cowboys were paying him.
"I should have done that," he says now. "That would have killed."
***
Dancing Harry's star gradually faded as the games became more serious and his act too familiar. Eventually, he was going to have to be Marvin Cooper again. It might have been for the best, anyway, because he was getting caught up in the fast-lane lifestyle of professional sports. He had quit his job with the sausage company before joining the Pacers to devote more time to Harry-dom and to try to parlay his fame into a nightclub singing career. He was having fun, but he wasn't getting anywhere.
"I thought it was going to last forever," he says today. "I was (written about) in Sports Illustrated three times, and in Time magazine. I rode in limousines. I stayed in some of the best hotels. Got to meet a lot of people. I met so many people … the actors from (the television show) Good Times, Ed McMahon, Lou Rawls ... John McEnroe loved me."
"I didn't save any money. That's part of my story, too."
Cooper had managed to eke out a living by being Harry and by hustling whatever games he could find. Finally, though, the real world came knocking. He became a skycap at the Baltimore airport in the late Eighties, often making up to $200 a day in tips, and worked six days a week. Some of the former NBA players who passed through, such as Wes Unseld, recognized him and greeted him warmly. It was never going to be the same again, although he did get the occasional Harry gig.
The most notable of those was against the Pacers, during their 1994 Eastern Conference finals series with the Knicks. Reggie Miller had scored 25 points in the fourth quarter of Game 4 at Madison Square Garden while giving Spike Lee the choke sign, lifting the Pacers to a 3-2 series lead. With them poised to wrap up the series back at Market Square Arena in Game 5, Lee lured Harry out of retirement for a few hundred dollars and travel expenses.
Harry called Knight, by then an executive in the Pacers' front office, and asked for a ticket. Knight, unaware of the plan, came up with one for his old friend. After the first timeout, Harry jumped out of the stands and put his whammy on the Pacers, but was quickly ushered off the court and warned not to do it again. So he didn't.
"That was very hard for me because of the love (the Pacers) gave me," Cooper says. "But Spike's a big-time movie star and it was hard to turn down the money."
Maybe Harry's whammy still had some mojo. The Pacers lost that game, then went back to New York for Game 7, and lost again. Lee tried to get permission for Harry to dance in the Garden for that final game, but was denied.
The habits that grew from all those years living the high life were hard to shake, though. Talk about a whammy. Harry developed an addiction to crack cocaine, which he says "took me down all the way." He's 72 now, claims to have been clean for about 10 years, and lives alone in Baltimore. His last wife died nearly two years ago, but he has four daughters and a sharp memory to keep him company. He recalls Market Square Arena and Madison Square Garden as his favorite venues, and his prolonged stay in Indianapolis as the best time of all. He believes he contributed, too.
"I brought the house down on opposing players," he says. "I could orchestrate the crowd. It had a giant bearing on the game, because a lot of players on the opposing team were distracted by me."
Regardless of the size of the bearing, the Pacers' players from that era remember him fondly.
"The ABA would allow you to do a lot of things," Keller says. "It was neat to watch the energy he put out. It was something different, and that's what the ABA was all about."
It's not what today's NBA is about, though. Cooper still dreams of a comeback, and occasionally calls Darnell Hillman, who played on that '75 Pacers team and now works in the front office, to offer his services. It's not likely to happen, though. Imagine the reaction from a visiting team – or, for that matter, the league office – if someone put on a cape and hat and put a whammy on the opposing players. Or, for that matter, if a dance team strapped on guns and performed a mock funeral for the other team.
"I would love to come back out there," Cooper says. "I think the fans would go crazy. If somebody would bring me out there, I'd more than appreciate that."
Most likely, the memories of a career that could never happen again will have to be enough.
Footnote
(1) Harry wasn't the first male dancer hired by the Pacers. Hillman's two-year-old son, Lloyd, got that honor.
Lloyd, now a girls basketball coach in Sacramento, would sit courtside at his dad's games and imitate the Pacemates when they performed during timeouts. Before long he was sitting with them at the end of the floor and going onto the court with them for their routines, much to the crowd's delight.
One game, however, Hillman left his son at home. General manager John Weissert approached him afterward and said, "I tell you what, you bring him every game, I'll pay him a salary."
Lloyd was paid $300 per month, most of which went to buy clothes for him to wear at the games.
Tagged with:
Dancing Harry
,
Indiana Pacers
,
Marvin Cooper