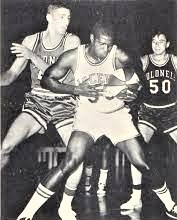 I believe they call this hiding in plain sight.
For years I had been trying to find out who scored the first basket in Pacers' history. Not that the future of mankind hinges on that particular nugget of information, but it seemed like something worth knowing and reporting.
I had read the newspaper stories in The Indianapolis Star and The Indianapolis News that covered their franchise-opening game against the Kentucky Colonels on Oct. 14, 1967, but they made no mention of it. It was reported who scored their 100th point (Jimmy Rayl) and who scored their final basket (Matthew Aitch) but no word on the first basket. Seems strange to me, but we often miss the historical impact of something in the moment.
I had asked three or four of the Pacers' starters if they happened to remember, but that's asking a lot. It's not like I remember who scored the first basket in the opening game of my senior high school basketball season, for example. I do know it wasn't me, though, because I missed my first three shots. Anyway, no luck.
I had checked with Bill York, the man who headed the stat crew from Day One. He personally typed up the running play-by-play of the games those early seasons and kept them in boxes in his garage. By the time I came around wanting to see them, however, some had suffered water damage, including those from the first season.
With no other sources to check, I had given up on it. Many things are lost to history, and this appeared to be one more. But then out of nowhere I received an email from a man named Scott Gaither with an attached link to an article in the Star from 1975. A column by Tom Keating mentioned that Darden had hit a 20-foot shot with 11:13 remaining in the first quarter for the first points in franchise history.
I have read and saved virtually every local newspaper article on the ABA Pacers for my book research, as well as many other newspaper articles from cities in and out of the state. Somehow, I missed this one; I guess because it didn't run in the sports section.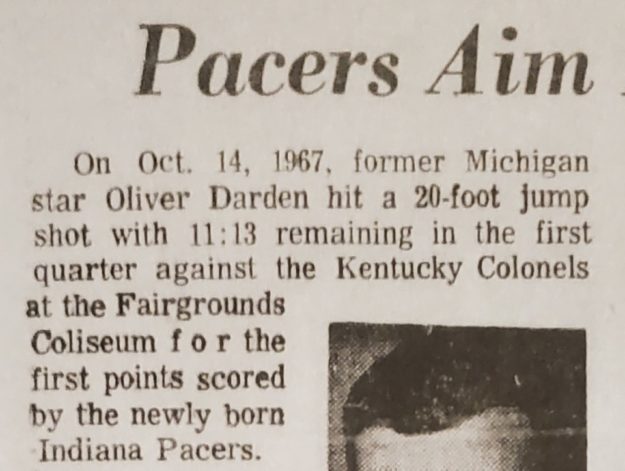 I called Darden, who lives in Sunrise, Fla., to pass along the news. I had talked with him about this topic before so I knew he had no memory of it, but he was happy to learn of his piece of history. Not many people can claim they scored the first points in a basketball franchise's history. Not many franchises even know who did so.
Darden, one of the stars of the Michigan team that reached the final game of the NCAA tournament in 1965, is deserving of something such as this. His professional playing career in the ABA didn't last as long as he hoped, just 103 games, although he did get a championship ring as a backup forward on the Pacers' 1970 championship team. Like many former athletes he's bitter about some aspects of it, but he went on to have a successful business career and has led an exemplary life. His exceptional maturity is revealed by the fact management always seemed to want him to act as a mentor to his more troubled teammates - most notably Reggie Harding with the Pacers and, later, Jim "Goose" Ligon with the Kentucky Colonels.
Darden also remained close to his Pacer teammate Jerry Harkness and flew with his wife to Indianapolis to spend a few days with Harkness and his wife, Sarah, before Harkness passed away recently.
Claims to fame are rare in life. Scoring the first basket in a franchise's history is better than most.  And Darden deserves to have that honor.
Tagged with:
Oliver Darden