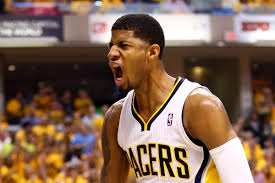 This profile made the case Paul George could surpass Reggie Miller's accomplishments as a Pacer. I believe he could have, even after he broke his leg and missed all but six games of the 2014-15 season. The two shared many similarities, and George was the better athlete.

This argument became moot when George asked for a trade from the Pacers, and that turned out to be the major difference between the two. Miller played 18 seasons for the Pacers. George, however, became frustrated by the Pacers' need to rebuild after their trips to the conference finals in 2013 and '14 and wanted to get back to the Los Angeles area. It all worked out for the Pacers because of who they got in the deal (Domantas Sabonis and Victor Oladipo) but it ruined George's opportunity to challenge Miller's status as the franchise icon.  
That doesn't need to matter to George, who finally got to L.A. after a stopover in Oklahoma City. It doesn't need to matter to the Pacers, either, who came out ahead in the deal. But this story is a reminder of how well things were going for George and the Pacers early in his career, and how it seemed like it would be a lasting marriage. If nothing else, it tells his intriguing backstory. And how quickly things can change in the NBA.   
(c) 2013, Pacers.com. Reprinted by permission
The comparison is too obvious to ignore and too intriguing not to ponder, so let's put it out there up front. Some of the similarities are merely coincidental but others are strikingly relevant to the future of the Pacers' franchise, but they are there.
The link between Reggie Miller and Paul George begins with their southern California roots, grows stronger amid the drafts that blew them all the way to Indianapolis and bonds them by their performance with the Pacers. Miller, through 18 seasons, became the franchise's icon and eventual Hall of Famer. George, only in his third season, has the physical and mental tools to surpass him. That might sound blasphemous at such an early stage of George's career, but it rings true to veteran observers.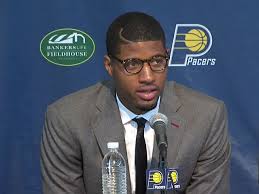 Donnie Walsh drafted Reggie Miller in 1987 and gained an insider's view of George this season, when he returned to the franchise as team president. He knows every bit of what Miller did. He can only guess at what George can do.
"There's no limits on how good this kid can be," Walsh said.
No limits? In the interest of maintaining sanity, we're not talking about the brand of other-worldly limit-lacking that LeBron James displays almost nightly. Still, the case can be made that George has the goods to become the best player ever to wear a Pacers uniform. If Miller, the Pacers' all-time leading scorer and playoff icon, is the franchise's gold standard, George is matching up well, on the court and off.
Both grew up about an hour outside of Los Angeles – Miller to the east in Riverside, George to the north in Palmdale. Both come from stable, suburban environments. Both had an accomplished older sister to compete against, be humbled by and draw motivation from. Both grew into the body of a tall shooting guard, even by NBA standards. Both had/have slightly unorthodox jump shots that proved accurate.
---
Tagged with:
Indiana Pacers
,
Paul George